Using a former mass shooting site as a backdrop, Marion County prosecutor candidate Cyndi Carrasco on Wednesday unveiled her plan for improving public safety in Indianapolis.
Carrasco held a news conference in the northwest corner of the Hilton Garden Inn Indianapolis Airport hotel parking lot, which abuts the FedEx Ground facility where 19-year-old Brandon Scott Hole shot and killed eight FedEx employees in April 2021.
Against that backdrop, the Republican candidate said the four pillars of her public safety plan are "prevention, organization, accountability and partnerships," before putting blame on current Marion County Prosecutor Ryan Mears, a Democrat, for not preventing last year's mass shooting.
"This should never have happened. This could have been prevented," Carrasco said in prepared remarks. "The simple fact of the matter is Prosecutor Ryan Mears has tools at his disposal which could have prevented this tragic shooting.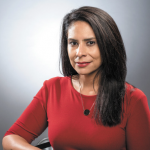 "The existing red flag law on our books could have been and should have been utilized against the shooter long before the FedEx tragedy took place," she continued. "He had the ability to keep the weapon out of the shooter's hand, and he failed us. Eight people will never return home because of it."
Hole had agreed to surrender a shotgun and did not request its return after FBI agents investigated him in March 2020, when his mother called police to say that her son might commit "suicide by cop." Due to the information collected at the scene, the Indianapolis Metro Police Department placed Hole under an immediate detention and transported him to a local hospital for evaluation.
But a red flag hearing was never held for Hole, who went on to legally buy additional weapons after his shotgun was seized.
Mears has defended his office's decision not to pursue a red-flag case against Hole, saying the goal of the law had been accomplished when the shotgun was removed.
"This individual was taken and treated by medical professionals and he was cut loose" and was not prescribed any medication, Mears said in April 2021. "The risk is, if we move forward with that (red flag) process and lose, we have to give that firearm back to that person. That's not something we were willing to do."
Including the victims from the mass shooting, Indianapolis set a record of 271 homicides in 2021, a majority of them gun deaths, with more than 760 people shot—a 6.72% increase from 2020.
On top of saying she would use existing resources like the red flag law, Carrasco said she plans to work with IMPD to "supplement their anti-violence initiatives, work with deputy prosecutors to maximize use of problem-solving courts and increase education provided to the public, including a comprehensive list of community resources and social support services designed to address many of the root causes that drive individuals to resort to criminal acts."
Additionally, Carrasco said under her leadership, the prosecutor's office would create a "crime reduction unit" tasked with launching a crime prevention education campaign, developing gun violence reduction strategies and partnering with IMPD neighborhood officers.
She acknowledged there are currently organizations working to reduce violent crime, but said she felt like the prosecutor's office could do more.
"There is a gap in bridging all of these services to be able to get them to function to the maximum potential," Carrasco said. "And what I envision is the 'Marion County Prosecutor Violence Reduction Task Force' as a group that's going to bring together all of those organizations and have open conversations and dialogue so there's actual movement in the positive collective."
During the 2022 session of the Indiana General Assembly, the Legislature created the Marion County crime reduction board through Senate Enrolled Act 7, which allows "interoperability agreements between law enforcement agencies to expand the duties and responsibilities of law enforcement agencies operating in downtown Indianapolis."
If elected, Carrasco also said she plans to shake up the prosecutor's office.
She said reorganizing the office will be a priority because it is becoming "increasingly inexperienced," with seasoned attorneys leaving "in droves."
"Turnover in the office is leaving cases being dropped in the hands of well-meaning, but inexperienced and undertrained staff, and must be corrected," Carrasco said.
She also claimed the pay in Marion County is less for prosecutors compared to surrounding counties and that attracting, training and retaining experienced deputy prosecutors "requires reprioritizing the office's budget to focus on crime prevention and public safety measures—not directing the budget's top line items to a bloated executive staff with nonlegal duties, and pandering, political programs."
Additionally, the GOP candidate said she wants to see a mentoring program for new prosecutors, and she wants to reinstate drug and gun units that exclusively work on those cases. Programs like Second Chance Workshops, which have been proven to work, will stay, she said.
Carrasaco said accountability doesn't mean throwing everyone in jail, but "hardened criminals who have no regard for the lives of others" need to be held accountable so they don't continue "to terrorize our streets."
When asked whether she's concerned about sentences being too lenient and whether law enforcement should be criticizing the courts—such as in the Indianapolis Fraternal Order of Police's recent no-confidence vote against Mears and the Marion County courts—Carrasaco said she's concerned about the plea deals going to serious violent offenders.
"… I want people to understand that most of the cases that are being handled in the Marion County Prosecutor's Office are not court trials and convictions," shesaid. "… The majority of the cases are being handled by putting people back on our streets, who quite frankly shouldn't be."
On her final point, partnerships, Carrasaco said she wants to reinstitute a team of community prosecutors, assigning deputies to districts to identify residents' concerns and invite their participation in developing strategies for addressing problems of crime and social disorder.
"And we must establish regular roundtables and listening sessions with criminal justice, public safety, and community stakeholders to hear their concerns, communicate resources and discuss solutions to our shared problems," she said.
Please enable JavaScript to view this content.