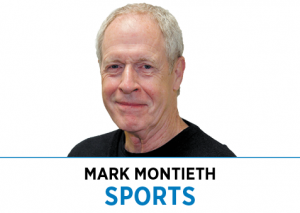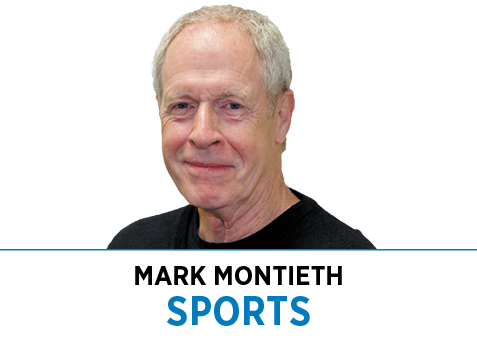 Derek Blubaugh got the first glimpse of his future when he was 7 years old. His father, Dana, was carrying some boxes that included his wrestling medals up to the attic. Derek, always in tow, got a look at them and was intrigued. Inspired, too.
Not long after, he declared his intent.
"Dad, I want to wrestle," he said.
"Why?" Dana asked.
"I want to keep up the family heritage."
Dad couldn't help but laugh. Not because he didn't take his son's ambition seriously. Just the fact that a young kid had used a word like "heritage."
It's some heritage, though. One that Derek has continued at the University of Indianapolis, with more chapters likely to come.
Wrestling in the 197-pound weight class, he was runner-up in the NCAA Division II tournament last year. This season, he has defeated the nation's top-ranked wrestler, to whom he had lost in last year's final, to earn the No. 1 ranking for himself. He's lost just one match, on a day he had an upper respiratory ailment—a detail he offers only grudgingly. What he doesn't say, but his father does, is that he was so sick he withdrew from the rest of the tournament.
That background leaves him with just one logical goal for the remainder of this season: a national championship. The Division II tournament begins on Feb. 26, and the finals will be held in Cedar Rapids, Iowa, on March 10-11. Although understated, even stoic, by nature, he doesn't shy away from expressing his wrestling ambitions.
"It is the pinnacle of what I can achieve, and it's attainable," he said matter-of-factly. "I like to reach for the stars, so I don't see any reason not to have that as a goal."
In his veins
Lofty ambition flows through Derek's veins, passed on from multiple sources and generations. His uncle Dean was a state champion in the 138-pound weight class in 1980. Dean's twin brother, Dale, was a runner-up that year in the 155-pound class. His dad's twin brother, Dan, was a sectional champion. His dad, on the other hand, didn't take the sport as seriously as his brothers but had success in summer competition, once finishing fourth in a state meet.
The primary source of the family's bloodlines and medals, however, is Derek's grandfather.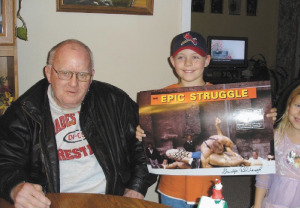 Doug Blubaugh is one of amateur wrestling's all-time greats. He won a gold medal in the 1960 Olympics in the welterweight division, achieving legendary status by defeating a previously undefeated Iranian who had won gold in the 1956 Olympics as well as three world championships. Doug also was an AAU and NCAA champion in 1957 and an AAU champion and Pan American champion in 1959. His induction into the National Wrestling Hall of Fame in 1979 was a given.
Doug grew up on an Oklahoma farm and attended Oklahoma State University. He got his first (and only) head coaching job at Indiana University, hardly a hotbed of wrestling talent before or since, and worked there from 1973-1984. His teams had eight losing seasons, three winning seasons and a .500 season, but he had greater success with individual wrestlers.
Thanks to the internet, his time there is best remembered for a confrontation with basketball coach Bob Knight. To no surprise, the cyber version of the story doesn't quite jibe with the family version.
According to the online reports, Blubaugh was jogging through the lower-level hallways in Assembly Hall during basketball practice one day. Knight, angered by the distraction, confronted him loudly and profanely. Blubaugh, all 5 feet 7 of him, responded by backing Knight against the wall and threatening bodily harm. One account reported Blubaugh grabbed Knight "by the collar and slammed him, sputtering and squirming, against the far wall of Assembly Hall."
Dana's version, based on conversations with his father, is that Doug was jogging with his wrestlers. After Knight shouted at him, he led his wrestlers to their workout room and then headed back to Knight and said, "I'll tell you what, I'll break you off at the knees and drop you down to my level and strangle the s— out of you!"
Dana never heard anything about his father's pinning Knight against a wall, though, and the two coaches soon became friends. Knight even gave Blubaugh a nickname: "Strangler."
All these years later, the details of the story don't really matter. The point is that Doug Blubaugh wasn't one to back down to anyone or anything. Besides, there are other stories that better illustrate his toughness. Like the time he went to a doctor complaining of indigestion and wound up being sent immediately to a hospital to have a heart pacemaker implanted. He didn't bother telling his kids about that until a year and a half or so later when it came up in conversation with Dana.
"These are the kind of things we want to know, Dad," Dana said.
"Oh, I didn't want to bother anybody with it," Doug said.
There's also the one about the time Doug caught a rabbit by running after it relentlessly until the rabbit wore out and simply stopped in the bushes.
"I was in better shape than the rabbit; I knew I could outlast it," he said.
Doug Blubaugh died in May 2011 while riding his motorcycle in Oklahoma. A man driving a pickup truck ran a stop sign and hit him broadside just a couple of blocks from his house. He shook it off and was ready to head on home, but by then an ambulance had arrived, and he was convinced to go to the hospital instead. He died within 90 minutes from a ruptured aorta.
Derek was only 10 years old when that family tragedy occurred. Doug had moved back to be closer to his roots in Oklahoma following a divorce a few years before Derek was born, so the two did not have much personal interaction. Derek does, however, have a poster of his grandfather pinning the Iranian wrestler for the gold medal in the 1960 Olympics. Doug inscribed his best wishes and signed it, "Grandpa Blubaugh."
He keeps that poster back in Bloomington for safekeeping. He has another poster of Grandpa on his wall at the off-campus house he rents with wrestling teammates.
It's one of his sources of motivation—silent but constant.
"The thought of my grandpa has driven me a little bit," he said.
Dana sees genetic similarities between his father and his son, comparing what he sees in Derek on the mat to what he has seen of the film clips of his father.
"He wrestles with the same stature, the same stance," Dana said.
A hard worker
Derek is singular among the Blubaughs off the mat, however. A nursing major, he is an honor student at UIndy with a grade point average of 3.49. If that conjures images of thermometers and bedpans, know that he's in it for the life-and-death drama. He wants to be in emergency rooms and on lifeline helicopters, where he can continue to experience adrenaline rushes while fighting to save lives.
"I like the trauma and the extreme cases," he said. "Surgery, blood, wounds and stuff like that."
He takes the same gritty, team-first attitude toward wrestling. His coach at UIndy, Jason Warthan, described him as a "whatever you need coach" guy who's always willing to sacrifice for the team. One of them is wrestling "up" a weight class where he's most needed. That means having to work to keep weight on rather than take it off, and often wrestling slightly larger opponents.
"When I asked him what he thought about wrestling at 197 he said, 'You just tell me. I'll do whatever you think is best for the team,'" Warthan said.
"He's as hard-working as anybody I've ever coached."
That work ethic applies off the mat, as well. Derek enjoys skilled labor, an attitude mostly instilled by his father, a drywaller. He built a tree house as an elementary student, then built a better one when he moved early in high school. He built a swing for his mother and has made countless other items for Christmas gifts and for charity.
More recently, he's worked summers for RentUindy, a university program that prepares housing units for students.
"I get to do some plastering and drywall care and painting," he said.
That's "get to," not "have to."
There's more to being part of a life-saving team than work, though. Whether wrestling, drywalling or building a tree house, Derek has succeeded by following the advice of mentors. He'll no doubt do the same with doctors and other medical personnel when helping to keep a heart beating. Being coachable is in his blood, too.
"You've got to be careful what you tell him, because he'll listen to you," Dana said. "If he trusts you, he'll listen to you."
Derek is a junior academically. He could wrestle at UIndy for two more seasons after this one because of the NCAA's COVID policy but will compete in just one more. A national championship or two should be enough to keep family heritage alive before he moves on to more important things.•
__________
Montieth, an Indianapolis native, is a longtime newspaper reporter and freelance writer. He is the author of three books: "Passion Play: Coach Gene Keady and the Purdue Boilermakers," "Reborn: The Pacers and the Return of Pro Basketball to Indianapolis," and "Extra Innings: My Life in Baseball," with former Indianapolis Indians President Max Schumacher.
Please enable JavaScript to view this content.