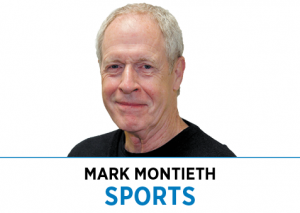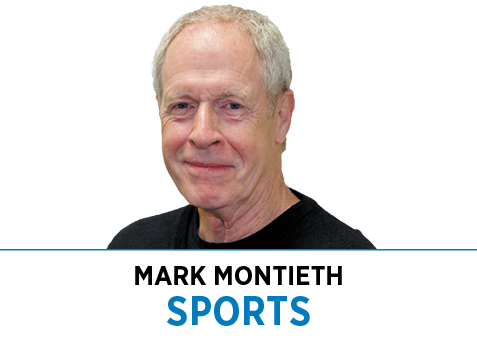 When his wife gave birth to their son, Kenny Hooks was awarded the honor of picking the boy's first name. She would choose the middle name.
After a false start and a couple of days of deliberation, Hooks decided to go with Jalen. He already had two daughters named after celebrities, Jada (Pinkett) and Jasmine (Guy), and he wanted to stick with the theme of "J" namesakes.
"I had followed Jalen Rose at Michigan, so I was already a fan of his," Hooks said. "He was kind of smooth. I liked the fact he was 6-9 and left-handed. He fascinated me.
"It's very simple. Had it not been for Jalen Rose, I would not have named my kid Jalen."
Hooks is just one member of a growing legion of parents who have succumbed to the spell of Jalen, a name thought to have been hatched on Jan. 30, 1973, when Jeanne Rose's son was born in Detroit, that has since grown into one of the most popular handles in the sports world. Comb the rosters of teams throughout the country, all levels, particularly basketball and football, and you'll find more Jalens—or Jaylens or other slight variations—than you can shake a rose at.
Seven were picked in last year's NFL draft. Three were selected in the first round of last year's NBA draft. Fourteen have found a place on an NBA roster at some point this season, including current Pacer Jalen Smith. But here's the clincher: According to ESPN, there are 5,637 Jalens and its spinoffs on NCAA Division I teams this season, making it the most popular first name in all of college basketball.
You don't have to look hard or far to find evidence of the name's presence in Indiana. Some of the state's best players in recent seasons are contributing to the phenomenon.
Hooks' son, a former Attucks standout, is finishing his high school career at Donda Academy in the Los Angeles area. Jalen Washington, out of Gary West Side High School, has signed a letter of intent with North Carolina. Jalen Jackson of Fort Wayne Northrop is an Illinois-Chicago commit. Jalen Haralson, a 6-5 freshman point guard at Fishers High School, already is reeling in offers from major programs. Jalen Blackmon, an Indiana All-Star last season out of Marion High School, plays at Grand Canyon College in Arizona. Jalen Johnson, who graduated from Manual High School, is Alabama A&M's leading scorer as a junior. Jaylen Butz, a Fort Wayne South Side graduate, is finishing his college career at Western Kentucky after transferring from DePaul.
'We liked the ring to it'
How did this happen? Why "Jalen" of all names and Jalen Rose of all people?
He was a member of the Fab Five, the 1991 Michigan recruiting class that changed the face of college basketball for a couple of decades, not to mention its socks (black) and shorts (baggy). He wasn't, however, regarded as the best player on that team. Chris Webber and Juwan Howard both were drafted higher, played longer in the NBA and accomplished more statistically. Why didn't their names catch on so broadly? Rose played 5-1/2 seasons with the Pacers, earning a Most Improved Player award in 2000, but Reggie Miller played 18 and is a Naismith Hall of Fame inductee. Why don't we have a stream of Reggies running through the state's high school rosters?
It turns out there's something about "Jalen" that makes it a successful brand name, one that projects a desirable image. It's simple, just two syllables, but unique. Or used to be, anyway.
"We liked the ring to it," Hooks says. "It sounded good."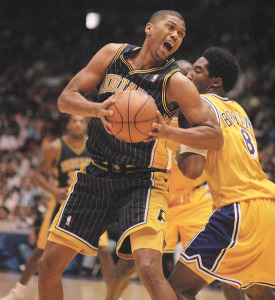 It turns out there's something about Jalen Rose as well. He played 13 NBA seasons in all, some of them near all-star caliber, then shifted gracefully into a TV broadcasting career that makes him a regular presence on ABC and ESPN today. People seem to find him urban-cool and authentic, and those who know his background recognize him as someone who overcame a single-parent, impoverished childhood with an upbeat and generous spirit.
Whatever charisma is, Rose has it. Larry Bird, when he coached the Pacers, called Rose "one of my favorites." Bob Knight, who spent a couple of days with the Pacers on the practice court after being let go at Indiana University, once went on Larry King's late-night TV show and admitted having a negative impression of Rose when coaching against him but really liking him after meeting him.
Today, at 49 years old, Rose is amazed and flattered so many parents want to participate in his mother's brainstorm. Most of all, he's proud that his name transcends race and sex. While kids named after other NBA players tend to be Black boys, "Jalen" has proved to be a gender-neutral name attached to boys and girls of all colors. Jaylin Agnew of the WNBA Atlanta Dream, for example, has stated her pride in being a club member.
As chairman of that group, Rose considers it a responsibility.
"I've been really fortunate to connect with the public because of the stages I've been fortunate to be on," he said. "Here's one thing I know: That's not a shotgun decision to give someone that name. They have nine months to think about it. You have to have love for that person to want to copy his name.
"When I started to realize [the name's popularity], I started to take pride in doing the best I can to be a role model. For me, the name represents my mother's legacy."
Ja-Len
Jeanne Rose created the name by merging those of Jalen's biological father, James, and her older brother, Leonard, who drove her to the hospital to give birth. James, "Jimmy" Walker was a college All-American at Providence and the first player drafted by the Pacers after they were formed in 1967. He signed instead with the Detroit Pistons of the NBA and played there for the first five seasons of his nine-year NBA career. He and his son never met, although they did eventually talk on the telephone.
It was thought until recently that Rose was the first Jalen to walk the planet, but that turned out not to be true. Barely. An ESPN investigation uncovered a man in Florida, Jalen Shepherd, who was born in 1970, three years before Rose. Shepherd said in a podcast he was named after his mother, Jacqueline, and his father, Allen.
Jeanne Rose, however, wasn't aware of anyone having the name when she gave it to her son. It was so unusual that Rose was teased about it while growing up, to the point it led to some altercations.
"When you haven't heard of something, you want to talk trash about it," he said. "But my mother used to tell me I was special because I was the only person with that name."
After Rose gained national exposure as a member of the Fab Five at Michigan, attitudes shifted. When the Five were freshmen, he was the leading scorer of the team that reached the final game of the 1992 NCAA tournament. They returned to the final game the following season. By then, basketball fans throughout the country were familiar with the tall, bald, bold, left-handed point guard.
From that seed, Jalens and their hybrids began blooming across the country.
The Social Security Administration requires a minimum of five newborns to share a name for it to be included in its database. "Jalen" initially appeared in 1992, when 612 boys and 30 girls were assigned the name. It rose in popularity the next two years, then dropped off in 1994 after Rose left Michigan following his junior season and entered the NBA draft. It began rising again as his NBA profile grew with the Pacers in the late 1990s, peaking in 2000 when it was the 106th-most popular name in the country, given to 3,513 boys and 167 girls.
That not coincidentally was the season Rose became a starter and leading scorer for the Pacers team that reached the NBA Finals. Rose appeared regularly on national television as the Pacers played in 23 playoff games that season, and he performed well. He scored 25 or more points eight times and reached 40 once.
'Prevalent name'
The Pacers' current Jalen, Smith, was born during that season, on March 16, 2000. It was the day after Rose scored 17 points to help the Pacers get a win in Atlanta and the day before he scored 35 points to lead a victory over Houston at then-Conseco Fieldhouse.
Smith's parents weren't focused on the Pacers' forward when they named their son; his name honors his grandmothers, Janet and Linda. Jalenmania might have crept into their decision-making process, however, because they could have spelled it J-a-l-i-n or some other alternative.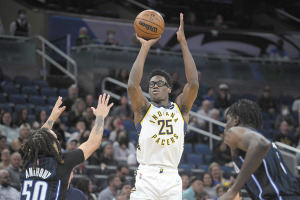 Smith didn't think much about his name growing up—most people called him by his nickname, Stix—but as the years have passed and the name has become more common, people bring it up to him.
"All the time," he said. "You see all different spellings, different races. … Jalen is a real prevalent name around the basketball community."
Smith is the third "descendant" of the original Jalen to pass through the Pacers' doors. Jalen Brunson, now with Dallas, worked out for them before the 2018 draft and Jaylen Johnson, now in the G League, played on their summer league team in 2019.
Brunson's father, Rick, was a teammate of Rose's on the 2002-2003 Bulls team but had named his son after Rose in 1996 because of his admiration for the Fab Five. Johnson—not to be confused with the former Manual High School Jalen Johnson or the Jalen Johnson who was the Atlanta Hawks' first-round pick last year—was named by his mother, Janetta. She had grown up in Michigan and gone on to a standout basketball career at Wisconsin and in Portugal. She lived for a while in Ann Arbor, where Rose played collegiately, then moved to Ypsilanti, where she gave birth to her son. She decided to pay homage but add a twist.
"She thought 'Jaylen' was a baller name," Jaylen Johnson said.
Football players, too
Not just basketball, either. Many of the boys bearing the brand have grown up to play football. There's Jalen Ramsey, starting cornerback of the Super Bowl champion Los Angeles Rams, for one, and Jalen Mayfield, a former Michigan offensive lineman who was a rookie with the Atlanta Falcons last season for another.
Locally, there's Jalen Walker, a wide receiver at Miami of Ohio. The Carmel High School graduate was born in 1999 when his father, David, was the running-back coach at Syracuse University. (He later joined the Colts' coaching staff.) Walker's mother, Marilin, was most responsible for selecting the name and, yes, it has everything to do with Jalen Rose.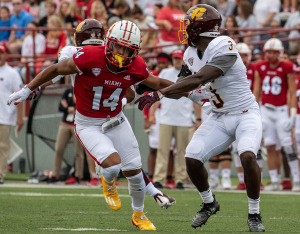 "Mom said they were watching a basketball game and heard the name and she fell in love with it right away," Walker said. "I am named after Jalen Rose, which is kind of crazy."
Walker is one of three Jalens on Miami's football roster, along with Jaylon Bester, a running back from Illinois, and Jalen Peterson, a defensive back from Avon. They share a bond, although it's becoming less and less a unique distinction.
"It's cool to tie it back to somebody and be able to share that type of relationship with other guys," Walker said.
"When I was in Indiana, my parents' generation of adults would comment on the name and trace it back to Jalen Rose and how influential he had been in the area. It wasn't until I got to college that I realized how many other guys had my name, and on top of that, how many there are in sports."
A baller's name, indeed, one with a singular beginning and no end in sight. Rose remains prominent in the media, and some of the current Jalens in the sports world will no doubt be spawning Jalen Jrs. With apologies to Shakespeare, if a rose by any other name would smell as sweet, then a Jalen by any other name would smell like sweat.•
__________
Montieth, an Indianapolis native, is a longtime newspaper reporter and freelance writer. He is the author of three books: "Passion Play: Coach Gene Keady and the Purdue Boilermakers," "Reborn: The Pacers and the Return of Pro Basketball to Indianapolis," and "Extra Innings: My Life in Baseball," with former Indianapolis Indians president Max Schumacher.
Please enable JavaScript to view this content.