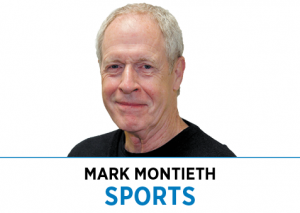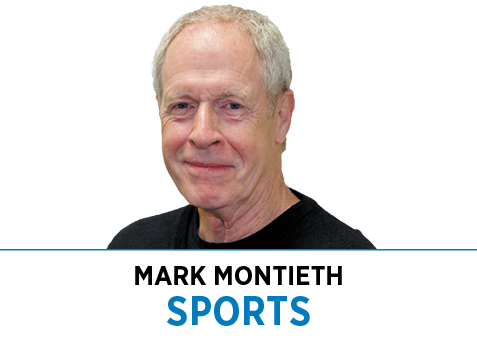 The first one didn't seem like a big deal. He had been to Indianapolis Indians games before with his aunt and uncle for the Fourth of July fireworks shows, so when he and his dad attended the home opener at the original Victory Field on April 22, 1952—a 10-4 Indians victory before 11,687 fans—it didn't feel special.
All these years later, however, Joe Drescher is still attending Indians home openers. Like a swallow in Capistrano, he was on hand for Tuesday's 4-1 loss to Omaha at the current Victory Field. For those scoring at home, that's 70 in a row, one of the most impressive streaks in all of baseball. And now it feels special.
"At my age, you never know when the last time is going to be the last time," Drescher said. "This is a big deal."
It's big because of what the streak represents. Drescher attends 10-12 games each season and the openers are no different from the others, really. In fact, fandom is more enjoyable later in the season when the weather is warmer. Such a rare combination of consistency and longevity, however, reflects qualities more meaningful than any number, no matter how impressive. Relationships and health, for example.
Drescher, 82, shared his landmark opener with 29 friends, most of them former students, spread over two adjoining suites along the first base line. He sprang for the rental, a luxury he could afford because he saved and invested wisely during his career as a business teacher at Pike High School that lasted from 1961 to 1994. He also visited with Max Schumacher, the Indians' former president and current chairman emeritus, in a separate suite, where Mayor Joe Hogsett stopped by. He later was paid a visit by the current team president, Bruce Schumacher.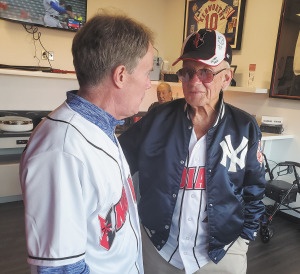 Drescher, though, is normally found among the regular fans in the Victory Field stands, where he sits eagerly and stubbornly. He doesn't just drop in on games; he arrives early to watch batting practice and stays through to the end, no matter how bitter the weather or the outcome might be. A few years ago, on a particularly cold night, he and the few friends who drove him up from his home in Spencer were the only ones left from his group of about 15 at the beginning of the game. All the others, younger by more than a decade but too bored, chilled or tired to go the distance, had bailed.
Perfect attendance
Drescher is an expert in the specialty of perfect attendance. He missed 16 days of school as a first-grader with what turned out to be tonsillitis. After his tonsils were removed over Christmas break, he never again missed a single day of school because of illness—neither as student nor teacher. Hitting all the Indians home openers, then, hasn't seemed that great a challenge.
Like most baseball fans, Drescher was introduced to the game by his father. Dad was a Brooklyn Dodgers fan, so Joe adopted the Yankees as his favorite team just to spark lively debates around the house. His love for the game grew from watching it more than anything. He played one year of varsity baseball as a freshman at Spencer High School, mostly because barely enough boys to fill a roster went out for the team. Contrary to his wiry frame, he was a catcher. He remembers getting up to bat six or seven times all season and that was the end of that.
He and his father attended Indians openers together from 1952 to 1961, when he graduated from Indiana State University. Once he began teaching, however, it became impractical to go get Dad, drive back up for the game, take Dad home and return again to Indianapolis. He attended games with fellow faculty members and then later took students.
Drescher's relationship with his students couldn't be duplicated in today's educational environment. He routinely took them to Indians games, often after making bets on various topics. The loser bought concession items or a postgame meal. He had eating contests with some of them and, again, contrary to his wiry frame, he usually ate the kids under the table.
Among his game and dinner companions was Gov. Eric Holcomb, a Pike alum who presented Drescher with the Sagamore of the Wabash honor before an Indians game last summer. Drescher also recalls taking two students to a Saturday game. The Pacers were in Louisville that same afternoon to play the Kentucky Colonels in a playoff matchup, so the boys listened to the Pacers on the radio while watching the Indians. They had lost a bet to Drescher, so they all headed to a Ponderosa afterward for a steak dinner. When they got to the end of the line, the boys opened a box and pulled out enough loose coins to pay for the meals.
He's invested
There are memories from the field, too. Drescher can rattle off names of Indians from past decades with ease, although the dates can get fuzzy. Tuesday night, Max Schumacher threw a trivia question at him, asking who managed the team in 1961. Drescher guessed Johnny Hutchings but was one off. It was Hutchings' successor, Cot Deal.
Drescher's favorite manager, however, was Vern Rapp, who was with the Indians for seven seasons beginning in 1969. Drescher was unable to attend Rapp's final game with the franchise because he was helping the Pike Lions Club with its sponsorship of the Hoosier Hundred auto race at the State Fairgrounds that weekend, so he obtained Rapp's home address in Colorado and wrote him a letter. Got a reply, too.
The games all tend to run together, but a few stand out. He recalls, for example, the details of the bizarre and thrilling home opener in 1991 when the Indians defeated Oklahoma City, 1-0, without managing a single hit. Drescher took two girls from his business law class to that one and then out for pizza afterward.
"They said it was the worst baseball game they had ever seen," he said, laughing.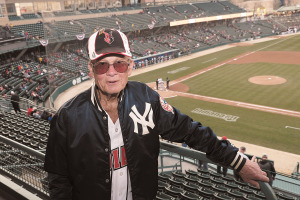 Drescher has spent plenty of money on tickets and concessions over the years, but not as much as he's earned from the franchise. When it conducted a public sale of stock to avoid being sold by its Major League affiliate, Cleveland, in 1955, he mailed $10 for one share. His mother thought he was crazy, wasting his money like that, but savvy was more like it. By participating in a reverse split in 1985, his share was worth $26,265 when he cashed out in 2012.
No plans to stop
Drescher moved back to Spencer in 1994 after he retired from Pike. He figured that would put an end to his association with students and appearances at Indians home openers, but they wouldn't let him go. Invitations kept coming and he kept going. The tradition will continue as long as he can make the trip.
Which should be a while. Beyond finding companions, the primary challenge of a 70-year attendance streak is staying healthy enough to go. Drescher earns his good health the natural way. He gets up daily at 3 a.m. and is out the door by 3:20 to walk about 10 miles. He usually hikes out and back on State Road 67, which offers hills to climb, a wide shoulder and light traffic at that ungodly hour. But if an ice storm has slickened the roads, he walks in town—"so if I fall down, somebody will be there to help me."
Friends warn him about that danger, or the possibility of developing knee and hip problems from all that walking, but he stays focused on the benefits rather than the dangers.
"To me, you use it or you lose it," he said.
The benefits of his diligence are many. He hasn't been a hospital patient since his tonsillectomy in 1945. He pays the bare minimum for his health care coverage, $23 monthly. He takes no prescription medications, relying instead on Metamucil, apple cider vinegar and zinc for supplements.
He has the energy to volunteer for endless charitable activities around Spencer and even uphold a baseball tradition with friends—for 70 years running.•
__________
Montieth, an Indianapolis native, is a longtime newspaper reporter and freelance writer. He is the author of three books: "Passion Play: Coach Gene Keady and the Purdue Boilermakers,""Reborn: The Pacers and the Return of Pro Basketball to Indianapolis," and "Extra Innings: My Life in Baseball," with former Indianapolis Indians president Max Schumacher.
Please enable JavaScript to view this content.