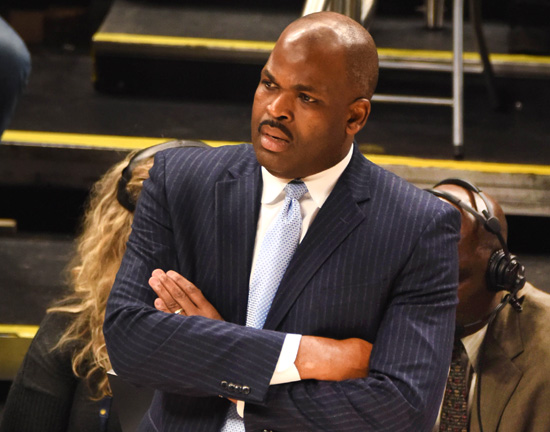 Myles Turner's exasperated declaration following the loss that swept the Pacers out of the playoffs on Monday not only tidily summarized the franchise's stagnation it turned out to be foreboding as well.
"At some point, you have to get over the hump, man," Turner said in a postgame Zoom call with reporters after the Pacers were eliminated by Miami in their first-round playoff series.
It will be up to a new coach to try to traverse the hump of the Pacers' five consecutive first-round playoff exits, because Nate McMillan was fired on Wednesday, two days after their season ended. It was a move that surprised most followers of the team and the NBA and appeared to please or anger them in roughly equal measures.
That's understandable, given McMillan's mixed record. Equally solid arguments can be made for his retention and dismissal. In hindsight, his job performance and the Pacers' decision to end it offers a classic case study in leadership, as it applies to both coaches and executives.
To what degree should a boss be held responsible for employee performance? What qualifies as a legitimate excuse when goals are not met? How do you know when it's time to make a change at the top? Should employee opinions factor into a supervisor's job status?
And most relevant to this example, how much authority should a boss delegate to assistants?
McMillan was a low-maintenance, high-character coach who smoothly handled his relationships with front office and media members and appeared to manage the locker room well, too. He was authoritative and demanding yet maintained a calm demeanor that made him approachable. Old school? Yes. Cool guy? Yes.
His teams combined for a 183-136 record in four regular seasons. Three of them exceeded general preseason expectations and the one that didn't, his first in 2016-17, won its final five games after Lance Stephenson arrived to inject a shot of adrenaline into an impassive collection of players and played Cleveland close in all four games of its first playoff series. His winning percentage, .573, is fourth-best in franchise history, well behind Larry Bird and barely behind Larry Brown and Frank Vogel.
The playoffs were another issue, however, and the playoffs are what people remember. McMillan's playoff record with the Pacers was 3-17. All four of his teams were eliminated in the first round, three by four-game sweeps, such as the one courtesy of Miami's broom this season. The lone exception, in 2018, took eventual runner-up Cleveland the distance, losing Game 7 on the road.
There are asterisks to be attached to the postseason hump, however. The best player on McMillan's first team, all-star Paul George, demanded a trade the following summer, forcing a roster shakeup. The best player on his second team, all-star Victor Oladipo, played in just 36 of 82 games in 2018-19, when the Pacers were swept by Boston, and in 19 of 73 games this past season because of a knee injury. The best player on his last team, all-star Domantas Sabonis, developed plantar fasciitis just before the playoffs began and sat out the series. So did Jeremy Lamb, who had started capably during Oladipo's absence in the regular season but missed the last two weeks of it and the playoffs with a knee injury.
Bottom line, injuries or not, the Pacers were the inferior team in each of the playoff series McMillan coached. Does that make him responsible for the losses? Is the chief mechanic for an Indy 500 team responsible for a mediocre finish if a tire blows during the race? Should a VP of sales lose his job for not meeting a projection if his star salesman left the company?
Dredge up the injuries-are-no-excuse cliché if you want, but that's for competitors. For sane analysts, they are a legitimate explanation of an outcome.  McMillan had his intended starting lineup of Oladipo, Malcolm Brogdon, T.J. Warren, Myles Turner and Domantas Sabonis for just five games during the regular season. They Pacers lost the first, won the next four and were looking better as they went along. Injuries dogged them to the very end, however.
So did the offensive game plan, however. McMillan's half-court offense wasn't nearly as sophisticated as those of the NBA's elite teams, too often dissolving into an off-balance shot or a heave from two steps beyond the three-point line as the shot clock expired. Ball movement and player movement away from the ball were sorely inadequate, forcing players to improvise too often.
Brogdon, a co-captain, acknowledged the elephant in the Orlando bubble following Monday's 12-point loss to Miami with a postgame analysis that was equal parts obvious and damning.
"I don't think we were able to execute down the stretch," he said. "I don't think we were able to get the shots we wanted, the easy shots. Miami executed out of timeouts, they got easy shots, they got layups, they got to the free throw line. They executed in the moment they needed to."
That critique applies to much of McMillan's tenure with the Pacers. They ranked 19th out of the 30 NBA teams in offensive rating this past season, too low for the talent on hand. They also ranked last in three-point and free throw attempts, a reflection of a stagnant offense.
If McMillan was responsible for the offense, he should have delegated the task on to an assistant. If he did do that, he must have hired the wrong assistant for the job because the Pacers underachieved in that regard. One skilled offensive coordinator could have made a huge difference for McMillan's postseason record, not to mention his future.
McMillan's approach resembled Bird's in many ways. Both were easygoing but hard-nosed coaches who commanded respect without wearing out the players' psyches.
McMillan, though, fell short of Bird in one crucial area. Bird immediately knew what he didn't know about coaching and hired two experienced strategists, Dick Harter and Rick Carlisle, to be his assistants.
They were given complete authority over the defense and offense, respectively, while Bird drove the players hard and served as team psychologist. It worked out nicely, with three trips to the conference finals and one to the NBA Finals in three seasons before Bird exited with the best winning percentage of all Pacers coaches.
Bird, however, had something else McMillan lacked: a healthy roster already honed by deep runs into the playoffs. Through Bird's three seasons, not a single starter missed a playoff game because of injury, although Reggie Miller and Rik Smits each missed one via suspension for throwing a retaliatory punch and elbow, respectively. The key reserves rarely missed a postseason game, either.
McMillan could only have dreamed of such a luxury. Perhaps he should have been given an opportunity to experience it. It takes courage for an organization to leave things alone when there's room for improvement but also valid reasons for the shortcomings.
Regardless, the Pacers will turn to a new coach. Or, more likely, another coach. NBA teams tend to prefer hiring someone off the carousel of experienced head coaches rather than taking a flyer on an unproven candidate who might be great but also might flame out. McMillan had two chances before the one with the Pacers and could very well get another shot, assuming he wants it. The most-rumored candidate to replace him, Mike D'Antoni, has been a head coach for five NBA teams. He's in the last year of his contract with Houston and will be free to consider a sixth stop if he wants it.
Only two things are certain.
Whatever coach the Pacers hire will have flaws. They might be different ones than McMillan possessed, but they will be there because perfect coaches are as non-existent as perfect players.
Also, that coach will be dependent on having a healthy roster capable of winning. Some coaches are better than others, but there are no miracle workers to be found. Bob "Slick" Leonard is in the Naismith Basketball Hall of Fame because his teams won three ABA championships when they were stacked with future Hall of Fame players. But his final five Pacers teams finished with losing records because their talent wasn't adequate.
He knows how the game works. "I've never seen a jockey carry a horse across the finish line," he likes to say. "You've got to have the horses."
Healthy horses at that. But leadership matters, too, and a leader's flaws become more glaring with every frustration. Finding a new one is easy. Finding a better one is usually a shot in the dark.
Please enable JavaScript to view this content.