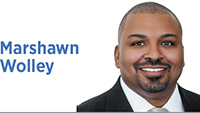 The Indianapolis philanthropic community should consider baby bonds as part of a long-term tactic to address Indianapolis inequality.
Stratification economists study racial disparities in various markets as well as the wealth gap and proposed policy ideas to address the inequities. William Darity Jr. and Darrick Hamilton popularized the idea of "baby bonds" as an effective tool for the elimination of racial wealth gaps.
In a 2017 study, the Federal Reserve found that white families had a median net worth of $171,000, while Latino families had a median net worth of $20,700 and black families had a median net worth of $17,600.
And while family wealth grew for white, black and Latino families from 2013 to 2016, the gaps grew as well, with the white-black gap growing from $132,800 in 2013 to $153,000 in 2016. Meanwhile, the white-Latino gap increased from $132,200 in 2013 to $150,300 in 2016.
The study also found that, from 2007 to 2010—a period that included the Great Recession, median net worth fell 30% for all families. But for Black and Latino families, it continued to fall an additional 20% from 2010 to 2013, while white families' net worth stabilized.
Citing additional scholars, Darity and Hamilton argue that inheritances, bequests and intrafamily transfers accounted for more of the racial achievement gap than education, income and household structure. Intrafamily transfers create advantages that can be sustained over time.
In the federal program proposed by Darity and Hamilton, every newborn infant would receive a trust account regardless of race but funded on a graduated basis based on the parent's income. The child would access the funds upon turning 18. The program would provide a guaranteed return of 1% to 2% a year and, upon maturity, range from $50,000 to $60,000 per child. Darity and Hamilton estimated that, at the federal level, the program as proposed would cost $60 billion a year.
The proposal would allow recipients—upon a trust's maturity—to use the money for purchasing homes, for education or for starting a business.
Other variations of asset development programs for low- to moderate-income individuals have tried and stalled for various reasons, including shifts in political ideology.
For example, the Assets for Independence program, established in 1998 and administered by the U.S. Department of Health & Human Services, significantly increased assets over a control group, reduced financial hardship, and improved perceived financial security. But the program did not receive funding in fiscal 2017.
Some of the infrastructure for supporting baby bonds might already be in place.
Since 1997, the Indiana Housing & Community Development Authority has issued individual development accounts with a state match of up to $4,500. Program participants can use the funds on a home, small business, education or job training as well as repairs to a home or the purchase of a vehicle. But the program, while impactful, is limited to $4,500.
Several area not-for-profits manage IDA programs for the IHCDA and usually partner the account with a financial literacy or workforce development program.
In a community where a child born into the lowest 20th percentile of income in the city has a less than 5% chance of reaching the top 20% percentile, we need dramatic interventions.
We know that there is a significant gap between white-black and white-Latino median incomes in Marion County, ranging from $20,000 to just over $30,000, depending on which data source one chooses. We also know that 47% of families are ALICE families—or Asset Limited Income Constrained but Employed.
Baby bonds could be an effective tool in supporting all young people in this city.•

Click here for more Forefront columns.
Please enable JavaScript to view this content.