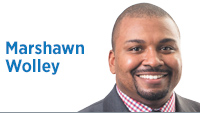 Diversity, equity and inclusion—and even belonging—are core business functions for the modern firm.
In August 2019, more than 200 of the largest companies in the United States declared that profit maximization or increasing shareholder value could no longer be the main objective of a firm.
The modern firm needs to consider its employees, customers, suppliers and shareholders when making business decisions. The companies' 300-word statement also noted that corporations are responsible for fostering "diversity and inclusion, dignity and respect."
With the current racial reckoning, we have learned that large inequities in communities are unsustainable. It isn't just about the violence that struck cities across the country, including downtown Indianapolis. Communities are competing for talent.
It is well known that millennials pick a city, then find a job. But what we've recently learned due to teleworking is, now you might not even have to live in a community to have a job in a community—creating additional pressure on community attractiveness and development.
We have one of the most diverse workforces in U.S. history in ways that go beyond primary dimensions of diversity, which include race, gender, ethnicity and sexual orientation. Millennials are the most diverse in U.S. history and the largest generation in the workforce, at 35% compared to Gen X's 33%. But generation Z's (born 2001-2020) entrance into the workforce now means that we have five generations in the workforce at the same time—a first in U.S. history.
The major events that have shaped the different generations' worldviews and even what we know about preferred management styles require the manager to understand not only the individual employee but also the clues that influence the generational worldviews and expectations related to the idea of work itself.
We've also learned about the role of implicit bias in the workplace. Our subconscious mind is nearly 30,000 times more powerful than our conscious mind. And as we learn more about the brain, we are beginning to appreciate how it takes shortcuts when processing situations that are new or not common, including interactions with people who are different.
More than that, we are learning how society can make women biased against other women, or Black people biased against other Black people. We know everyone has implicit bias—which raises the challenge of figuring out how to manage it in order to arrive at bias-free decisions. (Hint: You have to know your biases in order to manage them!)
Supplier diversity is no longer just a politically smart thing to do but rather a source of competitive advantage. According to the Harvard Business Review, "An inclusive procurement strategy widens the pool of potential suppliers and promotes competition in the supply base, which can improve product quality and drive down costs."
An additional hard truth has been the reality that expectations have also shifted with respect to diversity, equity and inclusion. Well-meaning companies that make "Black Lives Matter" statements might find that, with poor histories of Black employee retention, a paucity of Black people leadership, or few to no Black corporate board members, they are opened up to public ridicule.
Corporate social responsibility scholars note that, while responsible businesses have been around for some time, the idea of corporate social responsibility emerged as a "social contract between business and society" in the 1970s. Overtime, CSR has become part of business.
Diversity, equity and inclusion—and increasingly the idea of belonging—are part of core business practices and must be managed as such.•
__________
Wolley is a lecturer, columnist and diversity and inclusion consultant. Send comments to ibjedit@ibj.com.

Click here for more Forefront columns.
Please enable JavaScript to view this content.