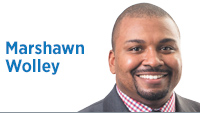 State government has a responsibility to dismantle systemic racism, and during this election cycle we need to hear the gubernatorial candidates' Black agendas.
COVID-19 exacerbated underlying inequalities, but the reality is that they had to exist already to be exploited.
For nearly a decade, Indiana has been in the top 10 for Black homicides, according to the Violence Policy Center. At one point, Indiana was one of 14 states in the country where the Black unemployment rate was twice the white unemployment rate in a robust economy, according to the Economic Policy Institute.
Consider that—according to an Indiana Department of Education's analysis—Black children have made only a modest 2% gain on state standardized tests since the agency has been tracking it.
Consider the fact that the governor had to veto legislation that failed to protect tenants and at the same time Indianapolis is second in the nation for evictions. Here's one that isn't even a current or partisan issue: It was the state government that closed mental health hospitals, under a different administration and political party.
An Indianapolis Recorder columnist in 1960 wondered in print whether white people exposed to the same social, economic and political realities as Blacks would fare any better than those Black people.
In that case, would white people: Still allow food apartheid to develop through a failure to act? Over-police and provide disparate sentencing for the men of a community, then restrict communities from "banning the box"? Give any community schools that consistently fail to teach children of their greatness and potential and challenge them with rigor? Allow redlining to occur across the state?
Maintain lax gun-control laws even while a gun-violence epidemic rages on the state capital's streets? Allow companies to offer unlivable wages? Fail to address lead in drinking water of children and families? Fail to lead on police reform?
Would the Legislature fail to pass laws to address food deserts? Would lawmakers create an inequitable school-funding formula? Would state government deal with criminal justice and police reform?
Systemic racism isn't an accident. It isn't magic. And by now, I sincerely hope we understand that it is real.
Based on comments from legislators within the Indiana General Assembly, it's probably a good idea for the entire group to go through implicit bias training and some kind of diversity and inclusion training—just for starters, because trainings are never enough.
The Indiana Department of Education needs to have a racial equity policy.
It's past time for Gov. Eric Holcomb to declare homicides in Indianapolis a product of systemic racism and a public health crisis.
We need to hear Holcomb and Dr. Woody Myers articulate a Black agenda for the nearly 600,000 Black people in the state of Indiana who have been subjected to both policies of the past and current policy indifference that has resulted in systemic racism that is not only diminishing social and economic realities of entire communities but also robbing them of life.
IUPUI researchers at the Richard M. Fairbanks School of Public Health found a 14-year difference in life expectancy between people who live in Carmel and those who live in predominantly Black neighborhoods in the inner city of Indianapolis.
And for years, Indiana state government has constantly meddled in Indianapolis affairs. Through both their own policy indifference and inaction and harmful policies, state officials are just as responsible as local government for the development of systemic racism in Indianapolis over time.
State government must be held accountable for dismantling these life-robbing systems—and to start fixing them, we need a Black agenda.•
__________
Wolley is a lecturer, columnist and diversity and inclusion consultant. Send comments to ibjedit@ibj.com.

Click here for more Forefront columns.
Please enable JavaScript to view this content.