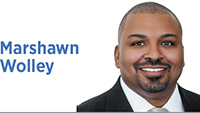 Indiana needs to consider how it is going to manage evictions and the aftermath of a broken system.
According to Eviction Lab, Indiana has had 78,499 evictions since March 15, 2020, and, despite significant efforts on the part of the city and its partners to provide rental assistance, Indianapolis has had 28,258 evictions.
While legislators would do well to consider whether there is currently an appropriate balance between the rights of the landlord to receive rent versus the rights of tenants to have a safe and functioning property before an eviction filing occurs, a pressing challenge is the aftermath of our broken eviction system.
As outlined in an Indianapolis Star article on the subject, Indiana law focuses on whether a tenant has paid rent when considering evictions, while some states—including Michigan, Kentucky and Minnesota—allow for the withholding of rent if there are serious problems with the property.
While I am sympathetic to the challenges some landlords faced during the pandemic eviction moratorium, due to a confluence of events often outside of renters' and landlords' control, we find ourselves with a larger number of renters with an eviction on their record.
People should pay their rent, but a pandemic and significant economic downturn should be a moment during which policymakers consider how they might address this unique economic distortion. Therefore, there should be a process for eviction expungements or some path to address evictions with respect to the courts.
That's in part because every eviction is not the same.
As a landlord who has rented to tenants with an eviction on their record, I know this to be true. In making my decision, I have had to rely on the information I could gather about the situation. But the reality was that, in many ways, the knowledge of the eviction was a distortion in the tenant-review process.
As a landlord, there is a difference between someone who just decides not to pay rent and someone who loses a job and falls on challenging times—and makes good even after being removed from the property.
I have heard too frequently about the filing of an eviction case as a tactic to expel a tenant from a property the property owner wants to sell when doing so would be in violation of the actual tenant-landlord agreement.
While we have good landlords who have the misfortune of having bad tenants, we also have bad landlords who provide substandard properties with exorbitant rents and use the threat of eviction to gain compliance from a tenant.
The Legislature already eliminated the ability of local governments to establish basic tenants' rights that might have aided in some of the evictions.
Establishing a process for addressing the ways a person's record might not be an impediment to obtaining housing in the future strikes a better balance between landlords and tenants in the event an eviction is filed.
Senate Minority Leader Greg Taylor has a bill in the Senate and Reps. Ethan Manning and Chris Jeter have a bill in the House. There still may be others.
These unique times present an opportunity to help landlords identify otherwise good tenants who fell on tough times.
Who does not need a second chance in life? Fix a broken system by giving tenants a second chance.•
__________
Wolley is President and CEO of Black Onyx Management, Inc.

Click here for more Forefront columns.
Please enable JavaScript to view this content.