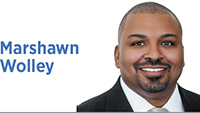 One of my favorite intellectuals is Harold Cruse, who offered a searing critique in 1967 of Black intellectuals from the Harlem Renaissance to the Civil Rights movement. I am principally interested in his observation regarding politics and the arts and the need to develop Black culture.
His critique centered on his concerns regarding integration—or assimilation—and the reality that Black people have something to offer, that denying "Blackness" is a psychological trauma that hurts Black people and, I add, diminishes the full flourishing of society itself.
Cruse argued that Black leaders on the political left, in pursuing integration, offered the Black community assimilation into a culture that did not value Black people. For Cruse, there was a deep connection between politics and art in reaching Black progress.
Cruse stated, "Let the race politicians, if they will, create political, economic or organizational forms of leadership, but it is the artists and the creative minds who will, and must, furnish the all-important content."
A new set of Black institutions has emerged in this city. The institutions are still nascent—others have been rejuvenated—but their existence comes with the audacity of being unapologetically Black.
While there have been numerous attempts at launching a Black agenda, the African American Coalition of Indianapolis (of which I am an organizer) stands out as one of the most successful efforts, with a string of policy innovations in both the traditional political space and also the civic and philanthropic spaces.
From successfully advocating for greater support of Black grassroots organizations, to criminal justice and police reform, to creating a Black-led loan fund (Equity1821), to sponsoring the first mayoral debate on a Black agenda, the African American Coalition of Indianapolis is among the vanguard of developing political, economic and organizational forms of leadership.
The AACI has taken the lead in providing an informed view on issues of the day in written statements with sign-on from Black organizations. Getting more than 20 Black organizations that vary across socioeconomic and even small "p" political orientations to agree on written statements on controversial issues is a signal that Black leaders are coming together out of concern about the deterioration of the Black community.
Black grassroots organizations, including protest groups like Indy10 Black Lives Matters and Black Women in Charge, asserted themselves during the racial reckoning with protests that were in the tradition of civil disobedience. To my knowledge, no one has connected Black protest organizations in this city with rioting.
But Cruse's critique of Black leadership centers around artists as part of an authentic cultural response to his challenge of Black progress.
Indianapolis is known nationally for Black gospel music. The Black Lives Matter mural in front of the Madam Walker Legacy Center in response to George Floyd's murder; the creation of the Eighteen Art Collective, a group of Black artists; and even the development of the Black fine arts fair "Butter" by GangGang are all moments and examples of the flourishing of Black culture in Indianapolis.
As a policy person, I believe listening to the community's concerns and acting on them is a challenge to despair and can bring hope. But artists make us feel and see the world in different and exciting ways. Their work expresses hope and possibility.
Artistic flourishing might not eliminate food deserts or stop homicides, but it is an antidote to despair. An artistic renaissance without policy innovations seems somehow inadequate for sustaining hope.
While challenges remain, I think Black Indianapolis is experiencing both an artistic and political response to an emerging possibility in this city—movement from despair to hope.•
__________
Wolley is president and CEO of Black Onyx Management Inc. Send comments to ibjedit@ibj.com.

Click here for more Forefront columns.
Please enable JavaScript to view this content.