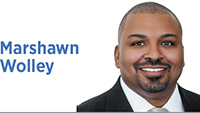 The Indiana Senate has seen fit to treat 12-year-olds as adults, allowing for children who commit violent crimes to be waived to the adult criminal justice system.
This isn't new. Indiana is ranked sixth in the nation in trying children as adults.
But it's just wrong.
Even if we don't believe a 12-year-old who commits a violent crime is a victim of something, we at a minimum know that a 12-year-old's brain is still developing ideas like justice and is still improving the ability to apply logic to situations.
And Senate Bill 449 will disproportionately impact black and Latino children.
According to The Children's Policy and Law Initiative, 70% of children directly filed into the adult criminal justice system are children of color. The data also shows that 77% of the children waived to the adult system are children of color (that means black and Latino).
According to the initiative, children held in an adult facilities are 9 times more likely to commit suicide. They are 4.3 times more likely to be sexually abused in the adult facilities versus the juvenile facilities. But even if you are heartless and don't care about the welfare of black and Latino kids, this is just bad public policy.
Consider that in 2019, according to the initiative, 58% of children who were found guilty of crimes were back in the community within a year. In the actual adjudication of cases last year, 14% of children who were charged had their charges outright dismissed. But this can't just be about the numbers.
I know our kids are dealing with a lot of things most adults couldn't handle. A few years ago, as part of the Exchange at the Indianapolis Urban League, a few young professionals and I visited the Marion County Juvenile Detention Center once a month. We talked to the young people at the facility about their future. We discussed dreams and helped them think through actions plans for achieving them. But we also listened to their stories intently to inform our own policy advocacy agenda.
I'll never forget speaking with young people and hearing them explain why they carry guns.
As a black man in this city, I have been losing black male friends to gun violence since I was a child. But still, hearing a young man say, "I have to carry a gun or I could be killed," made me pause.
Last year, we had 15 people under the age of 18 killed in gun violence. In the last 4 years, we have lost 36 people under 18.
Last year, 411 black people were shot. In our neighborhoods. On our streets. In front of women and other children and senior citizens.
There were 132 black male shooting victims between the ages of 20 and 29 last year—and 86 black male shooting victims under the age of 20. In comparison, 38 white males, one Asian and no Latino males under the age of 29 were shot.
Given the trauma our kids are experiencing in our community and the prospect of placing our children in a prison system meant for adults, I have to ask the question: How did 31 adults in the Indiana Senate arrive at the decision that it's OK to treat a 12-year-old like an adult?
Societies are judged ultimately by how they treat the most vulnerable among them.
SB 449 is a step back for Indiana. And it's cruel.•
__________
Wolley is a lecturer, columnist and diversity and inclusion consultant. Send comments to ibjedit@ibj.com.

Click here for more Forefront columns.
Please enable JavaScript to view this content.