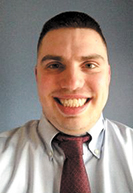 Age: 31
Hometown: Auburn
Residence: Carmel
Family: 7-year-old son, dog
Education: currently enrolled at IUPUI, studying secondary education
Political experience: none
Career: no answer
Why he's running: Hoosiers deserve someone who is going to truly represent them and who won't back down when fighting for what constituents want.
Top issues: being pro-life, pro-Second Amendment and supporting tax cuts
What he's streaming: no answer
Q&A
What do you think needs to be done to improve access to and the affordability of health care?
Health care can be made more affordable by creating more competition among health insurance companies. … If we remove the regulations/red tape, every insurance company will be able to compete with each other nationwide. This will drive down costs of insurance and make it affordable for everyone.
What should be done to address the massive amount of student debt in this country and make college more affordable?
Right now, it is very easy to get a government loan for college. When a student gets that loan, the college gets its money upfront and the student has a long time to pay it back. Colleges know that, no matter what they charge, they will get their money upfront from the government loans. … It should be less easy to receive a government loan. Instead, we should encourage students to seek grants or scholarships.
What is your position on trade and tariffs?
Tariffs can be used on trade if they are used smartly. After all, tariffs were how the federal government made money before the income tax.
What should be done to address climate change?
The climate has been changing for years. The earth has survived comets, meteors, continental drifts, the big ice age, etc., all before the arrival of humans. Humans are hardly doing anything to affect the environment.
Please enable JavaScript to view this content.