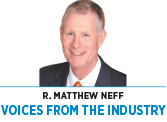 Many have compared the coronavirus pandemic to fighting a war—a war against an invisible enemy.
If we extend that analogy, why has the United States prevailed in almost every war? Take World War II as an example. Did America, as part of the Allied Forces, prevail because of its superior moral leadership? The brilliance of its leaders? The fact that we were the liberators, as opposed to the oppressors?
All of these factors contributed significantly to the U.S. victory, but I submit there was one overarching reason: the vast natural resources of the United States and, critically, its ability to rapidly reengineer its supply chain.
During WWII, America redirected massive manufacturing capacity to wartime production. Car production became tank production. Farm implement manufacturing became artillery production. And in our current battle, redirecting U.S. manufacturing capacity in a fundamental, coordinated way will be the key to victory. That's why we have a Defense Production Act.
A local example of this is Indianapolis-based Hotel Tango Artisan Distillery, where I serve as chairman. In February, well before the stay-at-home orders took effect, Hotel Tango began to explore getting regulatory approval to produce hand sanitizer, a different but related product to the alcohol spirits it routinely produced.
While the U.S. Food and Drug Administration and the Tax and Trade Bureau of the Treasury Department discussed whether and how hand sanitizer could be produced by distillers, Hotel Tango requested authority, and ultimately received approval, to produce a hand sanitizer at unusually high strength (80% alcohol).
Ultimately, the FDA and TTB agreed that licensed distillers could produce hand sanitizer, and Hotel Tango began to make it, along with other distillers and brewers around the country. Hotel Tango donated its first 2,000 bottles of hand sanitizer to local charities.
By mid-March, Hotel Tango had publicly announced its new hand sanitizer, and bottles were shipped to the naval vessels USS Indiana and USS Indianapolis.
Since that time, Hotel Tango has sold more hand sanitizer than distilled spirits. The product is being shipped to the National Guard, all branches of the U.S. military, and to bases as remote as in Europe and Saudi Arabia. And this has happened, without sales or marketing effort, in 45 days.
Managing the shift of its supply chain has challenged the management of Hotel Tango, even given the Marine Corps training of its CEO, Travis Barnes. The company created a new production line, first at the Hotel Tango facility on Virginia Avenue, and lately, at the company's farm on the south side of Indianapolis. Twenty Hotel Tango employees, about two-thirds of its workforce, have refocused on hand sanitizer production.
Hotel Tango did not initially have the equipment to blend and bottle the sanitizer. Finding bottles became a significant challenge, and bottles of various sizes and shapes had to be used.
The company ramped up its distilling. Thousands of gallons of grain neutral spirits, the alcohol base made from Indiana corn, have now been distilled or secured for production purposes.
Hotel Tango hand sanitizer can now be found in Navy shipbuilding yards in Wisconsin, shoe retailers (when they reopen) around the country, shipping companies that handle packages as an integral part of their business, as well as military ships and bases around the world. Turnaround time for orders has been reduced to 24 hours. This is the result of 20 employees mixing grain alcohol by hand in Fountain Square.
There are hundreds of examples of U.S. companies turning their production capacity to the wartime needs of the pandemic battle we are fighting. Face masks made by tailors, personal protective equipment sewn by clothing manufacturers, ventilators built by car companies (including in Kokomo). Each of these contributors has to find enough raw material to make those products, then devise processes to fabricate, first haltingly and ultimately to scale and economies that make them sustainable.
During World War II, the United States boosted its production capacity by massive amounts. From 1940 until 1945, U.S. GDP rose 50%; 20 years after the war, it was up 250%. After the war ended, the economy returned to a peacetime footing, and the fear of post-war depression evaporated with a baby and building boom.
But it was the speed, and the awesome power of redirecting U.S. production capacity, that led to the victory of America and its allies, and it will no doubt drive the outcome in this war as well.•
__________
Neff is of counsel to Dentons Bingham Greenebaum LLP and is senior adviser to Evolution Capital.
Please enable JavaScript to view this content.