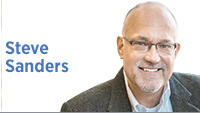 Early in his career, Pete Buttigieg worked for 2-1/2 years as a management consultant for McKinsey & Co. That history is being mined by Mayor Pete's lefty opponents to create dishonest attacks that exploit people's lack of understanding of how providers of professional services—consultants, lawyers, accountants—actually work.
Media outlets and some of his critics—especially his rival for the Democratic nomination, Sen. Elizabeth Warren—had been demanding that Buttigieg release a list of the McKinsey clients he worked for, and he has done so. The list includes Best Buy, an insurance company, a supermarket chain and several federal agencies.
Buttigieg's work for Blue Cross Blue Shield of Michigan has generated the most attention. Ten years ago, the insurer raised premiums and laid off 10% of its workers. But those decisions can hardly be pinned on a nerdy junior associate whose three-month assignment, according to Buttigieg's campaign, involved analyzing things like rent, utilities, and travel costs—especially since the layoffs occurred two years after Buttigieg left McKinsey.
Still, the outrage machine cranked up immediately, and a Politico headline captured the unscrupulous nihilism of the whole imbroglio: "The left nukes Buttigieg over McKinsey work." Wrote a blogger on the progressive site Common Dreams, "Buttigieg helped an insurance giant increase profits at the expense of workers." According to The New York Times, the client list "is likely to provide ammunition to those in the liberal wing of the Democratic Party who have sought to tag Mr. Buttigieg with the pejorative 'Wall Street Pete.'"
Many people believe a client's conduct should be imputed to any lawyer, accountant or consultant who works for them, and Mayor Pete's critics are doing their best to stoke such misconceptions. But that is not how business works. Entry-level associates in particular have little control over their assignments and clients. You work under a partner, who has the authority to make actual decisions and recommendations. As another former McKinsey associate wrote on the website MarketWatch, "You have absolutely zero power and very little influence."
To be fair, Buttigieg once touted his McKinsey work for the insights it gave him about management and problem solving. He probably overstated the scope of his experience.
Contrast Mayor Pete's low-level McKinsey work with Warren's longtime side hustle while she was a well-paid law professor, earning almost $2 million representing some of the same types of corporate interests she now rails against. Unlike Buttigieg, Warren had complete freedom to choose her projects and clients, and, owing to her stature, more power to influence their behavior.
When I was an associate at a large law firm, I was assigned to write a brief arguing that a lawsuit against our client, a railroad that had contaminated some land, should be dismissed. I did not choose the client, and the argument I developed involved a perfectly legitimate application of relevant law. Yet if I ran for office today and the matter came out, the line of attack would be (cue ominous music and stock video of toxic waste), "Sanders believes dirty, disgusting polluters shouldn't being held accountable."
And so it goes with Mayor Pete. From the snarky attacks and indignation, you would think he had ordered those Blue Cross layoffs personally.
These portrayals of Buttigieg's short, wonky, unglamorous stint as a management consultant are irresponsible. They demonstrate that some on the Democratic left—who demand ideological purity and scorn the more analytical, pragmatic politics of someone like Buttigieg—have the same situational relationship with facts and candor as the Trumpian right. Progressives should be better than that.•
__________
Sanders is professor of law at the Indiana University Maurer School of Law in Bloomington. Send comments to ibjedit@ibj.com.
Please enable JavaScript to view this content.