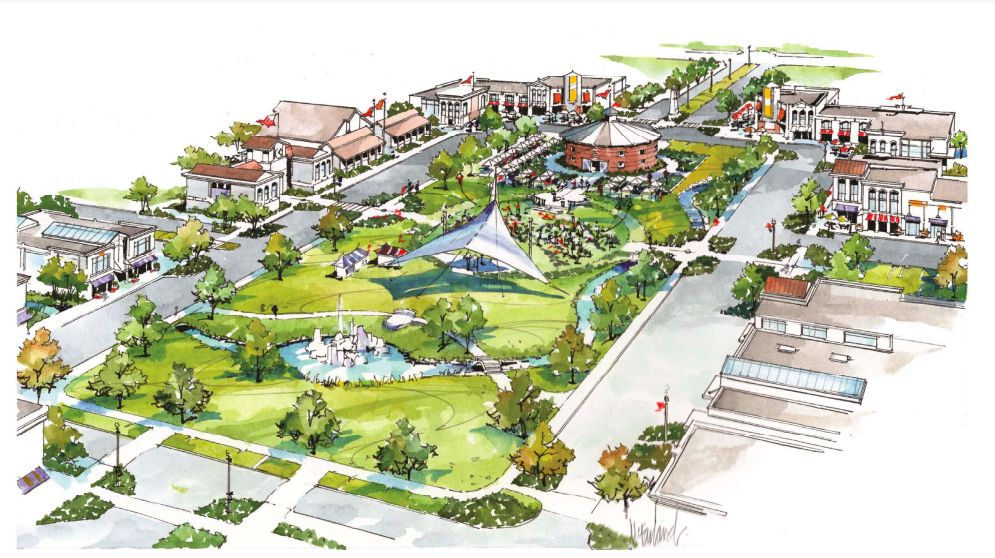 The creation of a downtown McCordsville could start with a pair of buildings featuring hundreds of apartments and neighborhood and several thousand square feet of retail, restaurant and office space.
Fishers-based Rebar Development received early approval with a 3-1 vote from the McCordsville Town Council this week to execute the $40 million first phase of McCord Square, a 48-acre area within the overall master-planned downtown project at the southeast corner of Broadway and Mt. Comfort Road.
Rebar's McCord Square Apartments will include two 111,000-square-foot mixed-use buildings standing four stories tall, with a total of 206 one- and two-bedroom apartments and 6,000 square feet of commercial space.
Construction is expected to begin in February 2022 so that the project might be completed by summer 2023.
"We're creating the kind of 'first domino,'" Rebar President Shelby Bowen said. "Really, you need people first. That's our primary focus: let's start with people living here, and as that density increases, commercial will follow."
The $31 million apartment project will be built on either side of a planned new Civic Green. Bowen said apartments will be market rate, but as many as 20% of the one-bedroom units will be listed for less than $1,000 a month to provide an option for the area workforce.
Planned amenities include a resort-style courtyard, work-from-home lounge, pet park and spa, wellness studio, indoor bike storage and balconies.
"We're trying to build some place for folks to live who might not have the desire to live in a big, single-family home," McCordsville Town Manager Tonya Galbraith said. "We really don't have that kind of inventory here."
Ryan Crum, McCordsville's planning director, said a majority of the town is low-density, single-family residential development.
"This represents a paradigm shift in development for McCordsville," he said. "We need to have something that has more of a nexus of activity and this is really the focal point, the heart of the community."
McCord Square Apartments' first floors will feature six 1,000-square-foot commercial studios with street-facing entrances and flexible leasing—a style Bowen called "neighborhood commercial."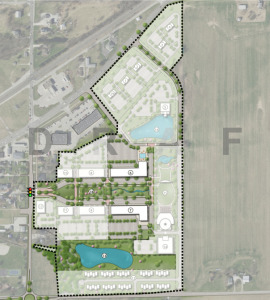 "It's really appealing for local businesses that don't need a lot of space and don't want to be burdened by a long-term lease, but do want to be in a great space with great energy," Bowen said.
McCord Square's 48 acres and the greater 130-acre town center master plan call for various types of multifamily and attached residential, standalone restaurants, commercial and even government uses.
McCord Square alone is expected to diversify the town's tax base and add $50 million in assessed value by 2025
"McCordsville doesn't have a town center, much like Fishers didn't several years ago," Galbraith said. "It's super, super exciting for us, and I think the excitement is just going to grow. This will be transformative. It will give people a sense of place so that they're not just 'living outside of Indianapolis or Fishers.'"
In addition to the apartments, there will be roughly $8 million of infrastructure improvements made on the McCord Square property. Galbraith said the city is working on the financials of a $4 million bond to pay for that infrastructure, as well as the details of a $6 million TIF bond supported by Rebar's apartment project.
The town's redevelopment commission is set to review the project agreement and potentially sign it at its Sept. 7 meeting. From there, Galbraith said there will be plenty of opportunities for public input as the project goes through the necessary zoning and architectural reviews.
Please enable JavaScript to view this content.