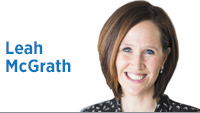 Two things that seem to be in conflict with each other can be true at the same time.
A friend of mine made this point recently during a discussion about racial equity. We were discussing how difficult it can be as a white person to process the realization and history of white privilege.
To this point, my friend said simply, "There can be multiple truths." His example: It can be true that a white man worked hard to achieve success. It can also be true that the same white man had privileges because of his skin color that made it easier for him to achieve success than a man of color. Both realities are true: He worked hard, and he had privileges.
These ideas are not mutually exclusive. Our human experience is not linear. That point was an important one in the moment of our discussion.
This kind of nuance is difficult to convey on Facebook, Twitter or on a banner headline on a TV screen. Issues we face are complex, especially when viewed through the unique lens each of us wears that is shaped by our experiences and understanding.
In the political and policy environment, too often we force people to a one-dimensional line of thinking, as if the solutions are predetermined to be path A or path B. We process people and things around us this way, don't we? In an automated-like fashion, we read a headline or see a quote and, before we dig in to learn more, we've already placed this topic or individual on a line, toward the right or the left, right or wrong, with us or against us.
A few years ago, Gov. Mitch Daniels warned college graduates of "tribalism." Tribalism leads to clusters of like-minded individuals who believe their ideas and ways of life are superior. It leads to our thinking we are always right, and those unlike us are always wrong. Not only are they wrong, they are dangerous and a threat to us.
It does not have to be this way.
Our world does not exist on one plain. We are multidimensional, living-in-color beings with complex thoughts and experiences. Policy issues are the same. They are 3D, and nuance matters. If we force ourselves to one-dimensional thinking, we will miss the next great breakthrough idea that lies somewhere in the 5th dimension, that not-yet-thought-of solution to an age-old problem. We will miss our chance to be innovative and embrace entrepreneurial thinking. And the challenges ahead are too big with too much at stake for us to limit our thinking. We are capable of more than that.
We need to slow down our inclination toward speed: speed to react, respond, retweet, speed to form opinions and pick sides. Thoughtfulness takes time. Listening takes time. Reading more than the headline and beyond the 120 characters takes time. We should challenge one another to dig deeper and to expect more substance than bullet points can cover.
If we give ourselves time and we value input from people unlike us, we might uncover the next great idea that brings us all together.•
__________
McGrath is deputy mayor of the city of Fishers and is vice chairwoman of the Indiana Republican Party. Send comments to ibjedit@ibj.com.

Click here for more Forefront columns.
Please enable JavaScript to view this content.