Republican state Sen. Jim Merritt, who is running for mayor of Indianapolis, sharply criticized Democratic incumbent Joe Hogsett's administration Tuesday morning, accusing the mayor of not doing enough to help women- and minority-owned businesses.
Merritt, standing outside the historic Madame C.J. Walker Theatre, said Hogsett has made initiatives to support minority-owned businesses an afterthought rather than a priority.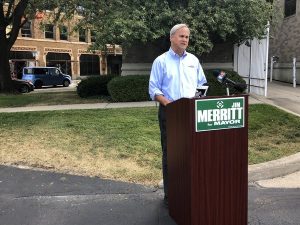 "Simply put, the current administration's support of minority and women owned businesses is abysmal," Merritt said.
Merritt specifically attacked Hogsett for not more quickly pursuing a disparity study that will examine whether enterprises owned by minorities, women, veterans or disabled individuals face any barriers in working with the city, cutting the budget for the Office of Minority and Women Owned Business Enterprises by $168,000 in the 2020 budget, and not meeting the city's standards for work with minority enterprises.
According to information recently provided to the Merritt campaign by the Concerned Clergy of Indianapolis, the city has only spent 7.5% of its budget on contracts with minority owned businesses so far this year and only spent 5.8% in 2018.
City code recommends spending at least 15% on contracts with minority-owned businesses, at least 8% on women-owned businesses and at least 1% on disability-owned businesses.
Hogsett's administration provided IBJ with different percentages for 2018, saying it spent nearly 8.7% of its budget on contracts with minority-owned enterprises in 2018, but that proportion still does not reach the 15% threshold.
Merritt indicated on Tuesday that the 15% level was a requirement under city code, but Camille Blunt, director of the Office of Women and Minority Business Development, said state law does not allow cities to have such mandates.
"Instead, Indianapolis—like cities all across Indiana—operate under a goal-based program," Blunt said in a statement. "We require that cities agencies as well as municipal corporations and companies working on city projects make a good faith effort to engage minority-owned businesses."
Heather Sager, spokeswoman for the Hogsett campaign, said comparing the 2019 and 2020 budgets  for the Office of Minority and Women Business Development is misleading. She said the budget was only higher in 2019 due to a one-time expense of $250,000 to fund the disparity study, which is expected to be completed by December.
"The reduction [in 2020] is because that was not an ongoing expense," Sager said.
The 2020 budget also includes a new compliance staffer for the department.
"This morning's press conference by Sen. Jim Merritt is yet another example of a lifelong state legislator who must be dizzy from desperately flip-flopping on his long-held positions," Sager said in a written statement. "Despite a 30-year history of voting against the interests of communities of color in Indianapolis, this morning's attempt to appropriate the legacy of Madam C.J. Walker for Sen. Merritt's political benefit is equal parts crass and ironic."
Merritt complained that the Hogsett administration has not been transparent about its work with minority businesses, while he says Republican Mayor Greg Ballard's administration, which served from 2008 to 2016, was forthcoming with information and regularly posted data on the city website.
"Clearly, Joe Hogsett is hiding his deplorable lack of opportunities for minority- and women-owned businesses," Merritt said.
Merritt also said Hogsett's Equal Opportunity Advisory Board has failed to meet regularly. According to the city's website, two of the four meetings so far for 2019 were canceled. Two more meetings are scheduled for the year—one in October and one in December.
Merritt said his administration will make transparency a priority, providing regular reports on minority- and women-owned business participation with the city and having public meetings to discuss the issue.
"Let's build a new legacy moving forward that Madame Walker would recognize, support and be proud of today," Merritt said. "We will be proactive and transparent in our efforts because all of us deserve better."
Please enable JavaScript to view this content.