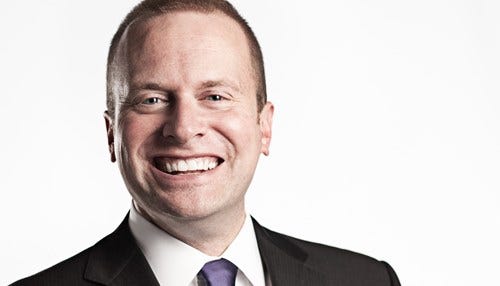 Indy Chamber CEO and President Michael Huber will step down after nine years heading the local business organization to join Indiana University as vice president for university relations.
Huber, who previous served as former Mayor Greg Ballard's deputy mayor for economic development, will join IU on Oct. 17.
IU said Huber will lead government relations efforts at the state and federal level as well as economic engagement. The school said that will include partnering with Indiana business leaders and communities to enhance the vitality of the state.
"Michael brings exceptional expertise in economic development that will propel our university forward," IU President Pamela Whitten said in a statement. "His experience and leadership will undoubtedly make a vital impact in a critical aspect of the recently announced IU 2030, a framework for the university's strategic planning process, as well as our ongoing engagement with state and federal legislators."
At Indy Chamber, Huber led a regional economic development strategy and spearheaded an economic response to the pandemic that included loans and other assistance for struggling businesses.
Huber said in a statement that he is "inspired by President Whitten's stated commitment to make Indiana University an economic engine for the entire state."
"I see unlimited potential in today's environment for collaboration between the public sector, the private sector and academia, and I can't think of a better platform to do that than Indiana University," he said.
Huber has served as an associate faculty member in the IU O'Neill School of Public and Environmental Affairs. He also partnered with the IU Kelley School of Business at IUPUI to develop the Enterprise Corps Program, a partnership between the Indy Chamber and the Kelley School to expand resources to small businesses.
He also has an MBA from the Kelley School of Business.
Huber succeeds Bill Stephan, who announced earlier this that he would retire in October.
Please enable JavaScript to view this content.