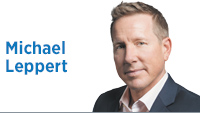 I vividly remember my mom wondering out loud how I mustered up the patience it took to enjoy fishing. My brothers and I have always loved it, though, whether we are wading in a river, standing on a shoreline or riding in a boat in an ocean, miles from land. Of all of her seven children, I was the one Mom firmly believed had the least amount of patience. My response to her curiosity came quickly: "You're right, Mom—I have no patience in me. But I do have persistence."
Staying the course the last year and a half on any number of projects has taken a different type of persistence for many of us. When the pandemic started, I was five months from finishing my graduate work at Northwestern University. It took an exhausting amount of drive to get that done on time last August for my entire cohort, but we all made it.
One of the primary reasons I enrolled in the master's program was because I was interested in teaching. I got lucky in that regard, as an opportunity to teach as an adjunct professor at Indiana University, my alma mater, landed in my lap right before I went back to school as a student. My luck kept rolling as I discovered my suspected love of teaching turned out to be true.
So, while I spent the first few months of the pandemic laboring away at the remnants of my master's program, I knew what my goal was: Finish this thing so I can start working on landing that permanent teaching gig. I sought advice from my professors at my prestigious school, and to say they were less than encouraging about my bright idea would be an understatement. Why? I don't know.
Next, I contacted a "career coach," thinking that, if there were good reasons why I was off track, she would at least explain them to me. In this arena, I received two primary warnings. The first one was entirely economic. The next one was that academia is a "tough" field to pursue, given the changing conditions and perspectives on higher education, which were only intensified by the pandemic. But if that's what I wanted to do, she said—here's how to do it, I guess.
Amy Blaschka wrote an excellent piece for Forbes last month: "Why now is the perfect time for a post-pandemic career check-in." Citing Prudential's "Pulse of the American Worker" survey, it appears around half of Americans are either reevaluating their career goals, rethinking the type of job they want or are willing to switch industries.
I see the churn this is causing in my current industry, and, even though I started this process before the pandemic, many will chalk up the changes I'm making to part of this "pulse" survey movement.
Next month, I will begin my new career on the faculty at IU's Kelley School of Business.
I have loved every career I've had. It is the most precious thing not on my actual resume. My excitement about my new job makes me feel as young as I was when I landed my first one.
And that is why I encourage everyone to take Blaschka's advice, with or without the pandemic as the reason. All with the understanding that landing the job you're fishing for will require some persistence.•

Click here for more Forefront columns.
Please enable JavaScript to view this content.