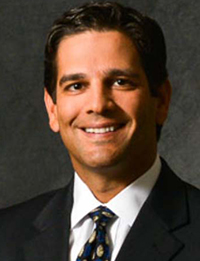 Longtime Ice Miller LLP attorney Michael Millikan has been elected chief managing partner of the firm, while Rebecca Seamands has been elected deputy managing partner.
The firm announced its new leadership Monday. Millikan will take the helm in January, succeeding Steven Humke, who plans to retire at the end of the year. Humke has been managing partner at the Indianapolis-based firm since 2015 and a partner since 1993.
"I'm honored that my partners have chosen to entrust Rebecca and me to lead Ice Miller into the future," Millikan said in a written announcement. "We're fortunate to be taking over the leadership of the firm at this juncture, when it is coming off its most successful year in its over 110-year history, and appreciate the confidence our partners have placed in us to guide the firm forward."
Millikan is co-chair of the firm's business group and co-lead of group's private companies practice. He joined Ice Miller as a clerk in 1997 and joined the firm full time in 1998.
He earned his bachelor's degree from Villanova University and his law degree from Indiana University Robert H. McKinney School of Law.
As chief managing partner, Millikan said he'll will prioritize the continued expansion of the firm's existing offices, the exploration of new markets, and the development and implementation of a new strategic plan. The firm currently has 340 legal professionals across seven offices in the United States.
Seamands joined the firm in 1994 after clerking for Judge Robert H. Staton of the Indiana Court of Appeals. She is a partner in the firm's construction group and has served on the Ice Miller Board of Directors.
She holds a bachelor's degree from the University of Illinois and a law degree from IU McKinney.
Please enable JavaScript to view this content.