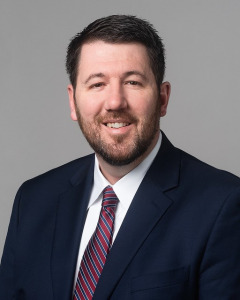 Court of Appeals of Indiana Judge Derek R. Molter has been chosen to join the state's highest court as the 111th Indiana Supreme Court justice, Indiana Gov. Eric Holcomb announced Friday.
Just shy of the 60-day deadline, Holcomb revealed his selection of Molter to succeed longtime Justice Steven David,  who is retiring from the five-member Indiana Supreme Court this fall after more than 12 years.
Molter was selected from a trio of finalists, which also included Grant Superior Court Judge Dana J. Kenworthy and Justin P. Forkner, chief administrative officer of the Indiana Office of Judicial Administration.
Molter previously sat in front of the seven-member Indiana Judicial Nominating Commission along with 19 other candidates vying for the open justice position.
The newly tapped justice, who hails from rural Newton County, joined the Court of Appeals of Indiana in October 2021 after being selected by Holcomb to fill an open spot on the appellate bench left by Judge James Kirsch in September 2021.
Molter graduated from Indiana University Maurer School of Law in 2007 and served as a judicial law clerk for now-Senior Judge Theresa Springmann of the U.S. District Court for the Northern District of Indiana. After a stint at Arnold & Porter Kaye Scholer LLP in Washington, D.C., he returned to Indiana and joined Ice Miller in 2013.
Molter is Holcomb's second appointment to the Indiana Supreme Court, following the governor's selection of Justice Christopher Goff in 2017.
Please enable JavaScript to view this content.