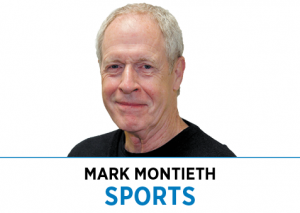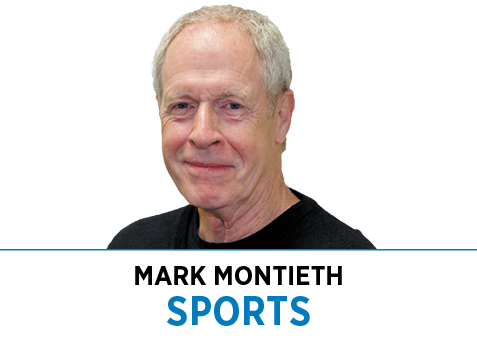 Anyone desiring a prominent front-office position for an NBA team can choose from two pathways.
1. Become a professional player or coach first, then slide on over.
2. Dare to dream, find a connection, slip through a back door and do the dirty work. For a long time.
Among those from the latter group, which is by far the larger group, four men with a local connection recently achieved peak career moments that more than justified the gambles they took and the grinds they endured. They stand as guides and inspirations for men and women who aspire to climb a ladder in any profession, in or out of sports, and have no choice but to start at the bottom.
They are the grinders who made it, the ones who showed how to make it in business by really, really trying.
◗ Dru Anthrop, who got a foot in the NBA door as a minimum-wage video intern with the Pacers, is now the video coordinator of the NBA champion Los Angeles Lakers.
◗ Nate Bjorkgren, who started his coaching career in an Iowa high school and later took a non-paying job, is the Pacers' new head coach.
◗ Peter Dinwiddie, who abandoned a legal career to join the Pacers' ticket sales department to kick-start his goal of working in a front office, is the newly named executive vice president of basketball operations for the Philadelphia 76ers.
◗ Former Pacers coach Frank Vogel, who fibbed to get a non-paying gig as a video assistant on a college staff, directed the Lakers to the NBA championship last month.
Their stories are unique, but also similar. They are necessary, too, because they describe the only path they could have taken to reach their intended destination. They worked for next to nothing, and in some cases literally nothing. They ricocheted around North America to keep the dream alive. They remained open to all opportunities. And, most of all, they maintained a grueling work schedule that would have collapsed most people.
Mobile, agile and virile.
Here are their stories:
Dru Anthrop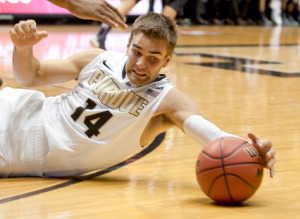 A management major and three-time Academic All-Big Ten selection isn't supposed to begin his professional life earning minimum wage.
Anthrop did. All $7.25 an hour of it.
The Purdue basketball guard had arrived as a walk-on and departed as a scholarship player because of his effort and attitude. He wanted to stay in basketball after graduating in 2013, so his coach, Matt Painter, called the Pacers' scouting director, Ryan Carr, who invited him down for an interview. He met with assistant coach Dan Burke, who was charged with hiring interns for the video department and had a chance hallway encounter with Vogel as well.
He landed a rock-bottom, entry-level position, one seemingly unbecoming of a college graduate. Not only was the wage minimum, the hours were not supposed to exceed 40 per week. He clocked in and clocked out like any good laborer.
Anthrop spent most of his time videotaping games and cutting edits for the coaches to use for scouting opponents. That meant sometimes staying up all hours of the night to watch and record the West Coast games. It also meant asking endless questions to learn how to operate the sophisticated equipment. It meant assisting in player workouts, too. It even meant stepping into a scrimmage now and then with the veteran players when another body was needed to even out the sides, and then running off to edit video dripping with sweat.
"You just morph into what the situation needs," he said.
Anthrop worked for the Pacers for two seasons, then set off on a whirlwind tour. One season at St. John's as a grad assistant under former Pacers coach Chris Mullin. Two seasons in Orlando as the video coordinator under Vogel. One season on the video staff for the Memphis Grizzlies, where he also worked in player development. A couple of months as the video coordinator for newly hired Jerry Stackhouse's staff at Vanderbilt, a job cut short before the school year began when Vogel called to offer the chance to become the Lakers' video coordinator.
That one was difficult. Anthrop didn't want to bail on Stackhouse before he even got started, but Stackhouse understood the opportunity the Lakers afforded and encouraged him to take it. There was barely time to mull it over. He had to be in Los Angeles to begin work for the Lakers by Aug. 1 of last year.
"It was a quick, crazy time," Anthrop said.
But, also, a good move. Those NBA championship rings aren't easy to come by and now he has a long list of connections in the basketball world. He's that much closer to his goal of becoming an assistant coach in the NBA.
Nate Bjorkgren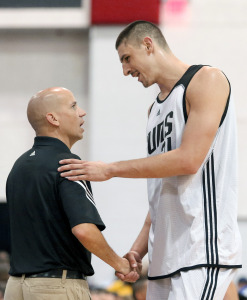 A kid from Storm Lake, Iowa, whose playing career doesn't extend beyond small college basketball isn't supposed to even dream of becoming a head coach in the NBA.
Bjorkgren has achieved it, traveling a meandering risk-filled trail that took him from an assistant coaching position at a high school in Iowa to Indianapolis, where he was introduced last month as the Pacers' head coach.
He made his own breaks along the way, twice leaving a job without another one in hand just to force him to continue progressing. His first head coaching position came at Sioux Central High School in Iowa. To get that, he also had to work as an assistant baseball coach and junior high football coach. He drove the bus to road games, too, some trips lasting up to an hour.
His first coaching position with a professional team didn't qualify as a professional job; he wasn't paid. His connection was Nick Nurse, who had been an assistant coach at South Dakota when Bjorkgren played there (before transferring home to finish at Buena Vista). He asked for a position on Nurse's staff with the Iowa Energy in 2007. Nurse had no openings but finally gave in to Bjorkgren's harassment and offered him a shot as a volunteer assistant.
A volunteer assistant on a G League team is a flimsy thread, but Bjorkgren grabbed it and hung on for dear life. He drove himself to road games, paid for his own plane ticket on the longer trips, put down tape on practice gym courts to mark off three-point lines, edited game film and worked as a substitute teacher on the side to supplement his non-income.
Nurse awarded Bjorkgren a paid position on his staff the following year and from there he landed head coaching jobs with three G League teams. His success propelled him to an assistant's position with the NBA Phoenix Suns and, after the Suns blew out their entire coaching staff early in the 2018-2019 season, a reunion with Nurse with the Toronto Raptors.
Toronto's championship in their first season together enhanced Bjorkgren's cachet, and after another season widely regarded as overachieving, he finally landed his opportunity with the Pacers.
For those keeping score at home, he was an assistant or head coach at three high schools, four G League teams and two NBA teams before fulfilling the dream that had begun so improbably in Storm Lake.
"It was a different route," Bjorkgren said in a recent Zoom conversation with Pacers.com. "You have to take some chances on some things, but [it was] a route I would never trade away."
Peter Dinwiddie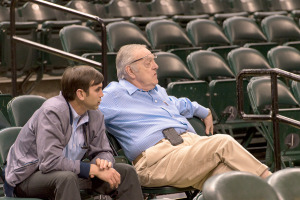 An attorney isn't supposed to change careers for an annual salary of $13,000.
Dinwiddie, however, recognized a good investment when he saw one.
A Cathedral High School and Indiana University alum, he earned his law degree from the New England School of Law. He stayed in the Boston area for internships with the New England Patriots and an entertainment agency but, unable to find a full-time position in sports administration, he returned to Indianapolis. After passing the state bar exam, he took a job in the legal department of Finish Line.
Six months later, feeling unfulfilled, he went for broke. He had enjoyed his internship with the Patriots because of the team-building aspect. His connection was fellow attorney Greg Hahn, who knew the Pacers' general manager at the time, David Morway, and wrote a letter of recommendation. That landed Dinwiddie an interview—not for a front-office position, but for selling tickets.
It wasn't a no-brainer for the Pacers. Would an attorney with front-office aspirations really be willing to pick up the phone day after day to try to sell ticket packages? It was hardly a no-brainer for Dinwiddie, either. He would be taking a significant pay cut and had law school debt to pay off.
"You had to sit there and think about it," he recalled.
This was in 2006, when the Pacers' image among the fan base had been doubled-over by the gut punches of the brawl with the Pistons at the Palace of Auburn Hills and local off-court incidents. A major rebuild had just begun and the on-court product was suffering, so it wasn't exactly a bull market for ticket sales.
Dinwiddie got the job and dove into the dirty work. Although his wife was working at the time, he had to supplement his income by bartending one or two nights each week at the Mouse Trap, from 9 p.m. to 2:30 a.m. Friday mornings came awfully early when the alarm rang after three hours of sleep.
He built a reputation around the office for organization and persistence. Eventually, a meeting was arranged with team president Donnie Walsh, who gave him basketball-related projects to perform, such as constructing hypothetical trades. For a while, Dinwiddie worked two jobs, selling tickets by day and interning for Walsh in the evenings. When Walsh left to take over the Knicks' basketball operations, Larry Bird hired Dinwiddie as his full-time assistant on Walsh's recommendation.
Kevin Pritchard retained Dinwiddie when he replaced Bird in 2017, but now Dinwiddie is moving on and up. He drove to Philadelphia on the first day of November to begin working in person with the 76ers in an executive position similar to what he had with the Pacers, but with more responsibility and oversight. It's another step toward his goal of becoming a team president.
That pay cut he took to work the phones for the Pacers paid off handsomely.
Frank Vogel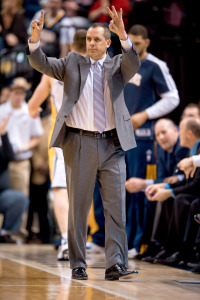 A Division III point guard isn't supposed to show up uninvited on the doorstep of a major college basketball program to pursue his dream of coaching.
Vogel took that giant leap of faith and landed on the mountaintop.
His story requires major condensing to avoid turning into a book. His life had been altered his freshman season at Juniata College in Huntingdon, Pennsylvania, (enrollment 1,500) when he watched Kentucky's upset bid of Duke in the 1992 NCAA tournament foiled by Christian Laettner's legendary turnaround jumper from the top of the key. Overwhelmed by Kentucky coach Rick Pitino's enthusiasm and skill, he began thinking of becoming a coach—a college coach, most likely—rather than a doctor.
He played two more seasons at Juniata but, through relentless initiative and persistence, received an arranged encounter with Pitino and his assistant, Jim O'Brien, at the Five-Star camp for high school standouts in Pittsburgh. Pitino listened to Vogel's pitch of transferring to Kentucky to work for and learn from him but replied with a polite rejection. He had no openings for a student manager or any other position in the basketball department, but, hey, stop by and say hello if you decide to transfer.
That was all Vogel needed to hear. He enrolled at Kentucky as a biology major for his senior year. After a few weeks of poking and prodding around the program, even showing up to work out on a side basket in the gym where the team conducted preseason scrimmages, he landed a non-paying job as an assistant video coordinator. That was thanks mostly to O'Brien, who became his primary connection. He had to lie to get the job, claiming he was computer-literate when he could barely type, but he learned to use the university's new cutting-edge tape editing machine one step at a time via relentless calls to the manufacturer's 800 number.
He stayed on for two more seasons, becoming a full-fledged student manager and walk-on member of the junior varsity team that Pitino installed for the first time.
A typical day during the season began with the 5 a.m. JV practice. He crammed most of his 18-hour class load into morning sessions and was back by the noon hour to wash uniforms and help the coaches with individual player workouts. He worked the varsity practice from 2-6 p.m., then devoted evenings to science labs and his video duties. He often slept four hours or less and occasionally pulled an all-nighter to get everything done.
"It was the hardest time of my life," he once said.
Fate intervened on his behalf when Pitino left Kentucky to become head coach and general manager of the Boston Celtics in 1997. He took O'Brien with him and, thanks largely to O'Brien's prodding, he took Vogel as well, as the video coordinator. That lasted four glamour-free years. When Pitino left the Celtics to return to college coaching, O'Brien became head coach and Vogel became an assistant. He later joined O'Brien's staff in Philadelphia and did so again when O'Brien became the Pacers' head coach in 2007.
When O'Brien was let go during the 2010-2011 season, Vogel achieved his dream of becoming a head coach—17 years after leaving Juniata.
He lasted 5-1/2 seasons with the Pacers, then two with Orlando. After a year off, he was hired a year ago by the Lakers, a fallback selection after another candidate or two fell through. Now he's got a championship pedigree, having led the Lakers to the season title in the Orlando bubble.
Combined, these four journeyman grinders have stalked their dreams through 24 cities (so far) since leaving college, taking the hard roads along the way. They have sacrificed money, sleep and common sense, in no particular order.
Vogel is the group's archetype, having worked 8-1/2 seasons as a head coach in the NBA and winning a championship. Bjorkgren has achieved his occupational goal, and now goes to work on making the most of it. Anthrop and Dinwiddie are working toward the next rung on their chosen ladder.
Probably best not to count them out.•
__________
Indianapolis native Mark Montieth is a longtime newspaper reporter and freelance writer. He is the author of three books: "Passion Play: Coach Gene Keady and the Purdue Boilermakers," "Reborn: The Pacers and the Return of Pro Basketball to Indianapolis," and "Extra Innings: My Life in Baseball" with former Indianapolis Indians president Max Schumacher.
Please enable JavaScript to view this content.