Eight people were shot and killed in a late-night shooting Thursday at a FedEx facility near the Indianapolis International Airport, and the shooter killed himself, police said.
Five additional victims with gunshot wounds were taken to the hospital, including one with critical injuries, on Thursday night after gunfire erupted at the ground center at 8951 Mirabel Road, according to the Indianapolis Metropolitan Police Department. Two people were treated by medics at the scene and released.
FedEx said people who worked for the company were among the dead.
Police are expected to provide updates at 10:30 a.m. Friday. The FBI confirmed it has joined the investigation.
The story continues below the map.
A witness told WTHR-TV that he was working inside the building when he heard gunshots.
"I see a man come out with a rifle in his hand and he starts firing and he starts yellin' stuff that I could not understand," Levi Miller said. "What I ended up doing was ducking down to make sure he did not see me because I thought he would see me and he would shoot me."
The shooter wasn't immediately identified, and investigators were in the process of conducting interviews and gathering information. Indianapolis Metropolitan Police Department spokesperson Genae Cook said it was too early to tell whether the shooter was an employee at the facility.
"We're still trying to ascertain the exact reason and cause for this incident," she said.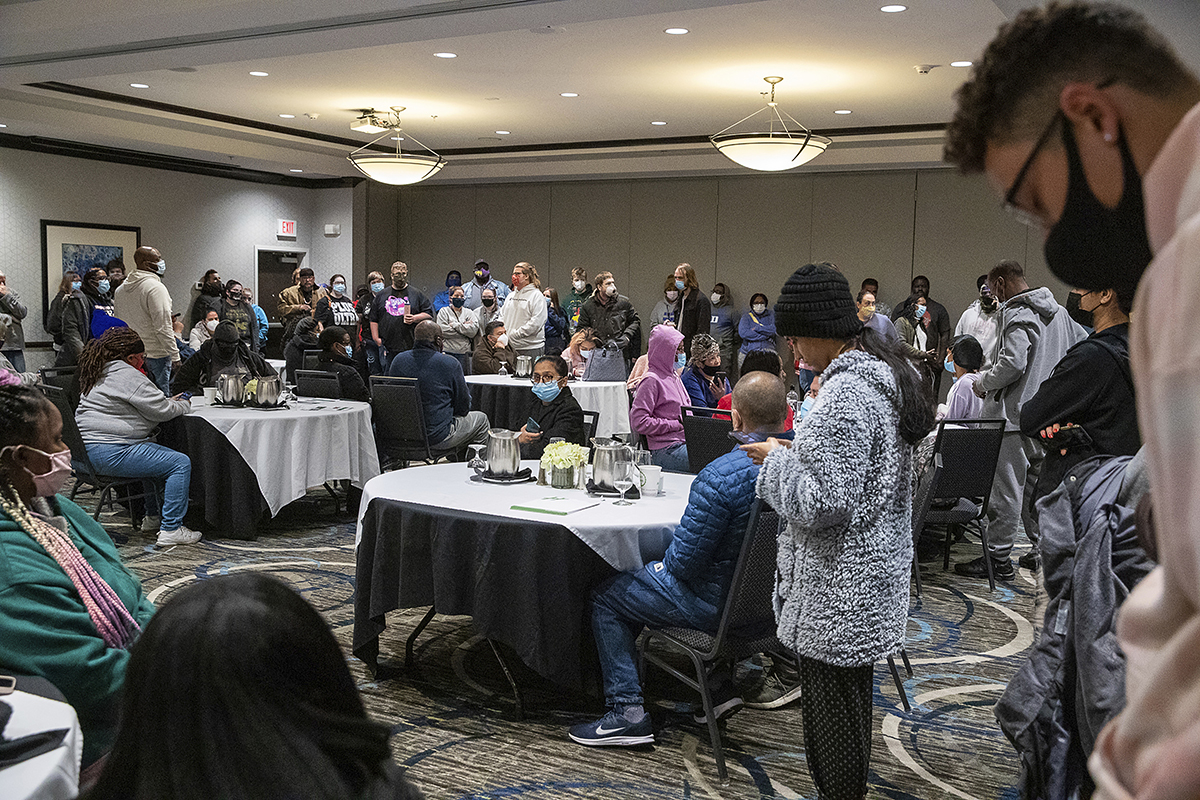 It was the latest in a recent string of mass shootings across the U.S. Last month, eight people were fatally shot at massage businesses across the Atlanta area, and 10 died in gunfire at a supermarket in Boulder, Colorado.
It was at least the third mass shooting this year in Indianapolis alone. Five people, including a pregnant woman, were shot and killed in January, and a man was accused of killing three adults and a child before abducting his daughter during an argument at a home in March.
In a statement, Indianapolis Mayor Joe Hogsett said, "This morning, Indianapolis residents are confronted with the horrific news of yet another mass shooting, an act of violence that senselessly claimed the lives of eight of our neighbors. As law enforcement works to learn more about this tragedy, our prayers are with the families of those whose lives were cut short."
"I am heartbroken by the mass shooting at the FedEx facility here in Indianapolis and praying for all affected by this tragedy," Rep. Andre Carson, a Democrat whose district includes much of the city, tweeted.
Police were called to reports of gunfire Thursday just after 11 p.m., and officers "came in contact with [an] active shooter incident," IMPD's Cook said. The gunman later killed himself.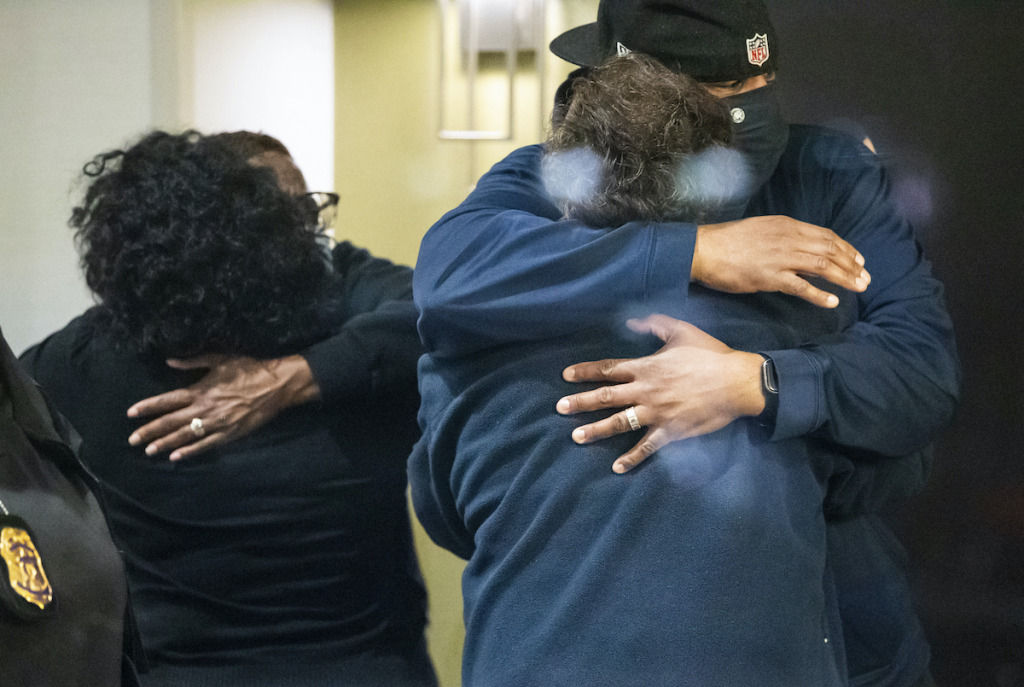 "The officers responded, they came in and did their job. A lot of them are trying to face this, because this is a sight that no one should have to see," she said.
FedEx released a statement saying it is cooperating with authorities.
"We are deeply shocked and saddened by the loss of our team members following the tragic shooting at our FedEx Ground facility in Indianapolis," the statement said. "Our most heartfelt sympathies are with all those affected by this senseless act of violence."
FedEx, best known locally for its massive cargo hub at Indianapolis International Airport, has about 7,000 full-time-equivalent workers in the Indianapolis area. Aside from the airport cargo hub and the FedEx Ground distribution center where the shootings occurred, it has Indianapolis-area distribution operations in Plainfield and Zionsville and is building a distribution center in Greenwood.
WTHR-TV reported Friday morning that police evacuated the ground facility using buses, moving employees to another location to interview them.
Meanwhile, family members gathered at a nearby Holiday Inn to await word on loved ones. Some said employees aren't allowed to have their phones with them while working shifts at the facility, making it difficult to contact them, WTHR-TV reported.
On Friday morning, one woman, who didn't give her name, came to the hotel and found out a relative wasn't at the scene of the shooting and broke down in tears of joy after hearing the news. She said "Thank you, Jesus" multiple times as she left the room where staff members are going through a list of employees who were at the scene.
Timothy Bouillat, a 29-year-old package handler at the warehouse, told The Washington Post that he was eating dinner in an outdoor break area around 11:10 p.m. when he heard two shots clanging against metal. He initially mistook the sound for an engine backfiring.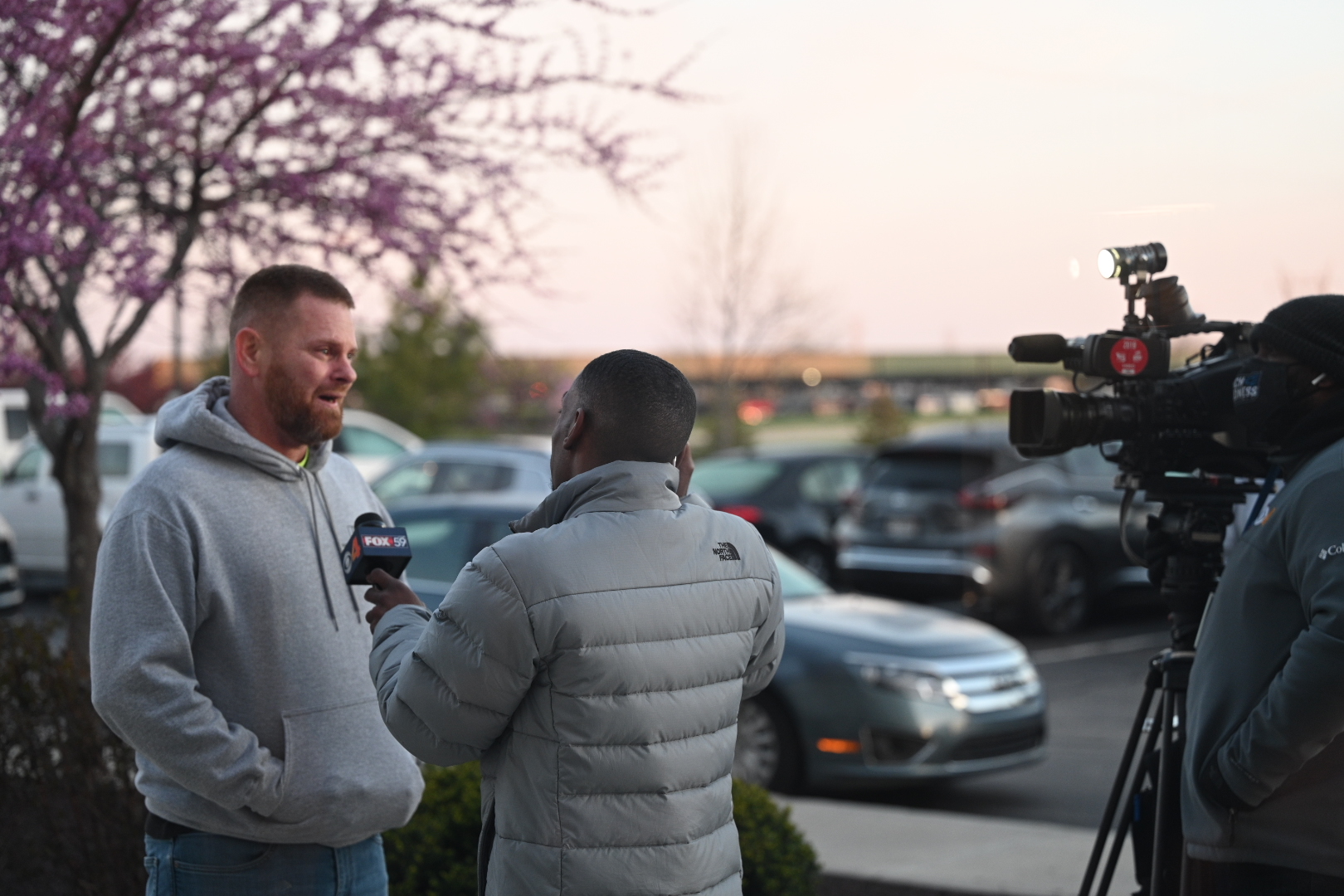 His co-worker stood up to see what was going on and pointed out a man with a weapon coming out of the front door to the FedEx facility, Bouillat said.
As four or five more shots went off, the pair spotted another person going into a car and retrieving a gun of their own. Moments later, Bouillat said, that person was on the ground, apparently wounded by the shooter.
Bouillat, who has worked at the warehouse for a decade, said the shooting left him "dumbfounded." The building is outfitted with metal detectors and security turnstiles at its entrance that require employees to scan their FedEx badges.
"I'm trying to process what happened and not lose composure," he said. "It could have been me. I could have been the one on the floor, not being able to see my twin boys again."
He and his co-worker were picked up by a third colleague at the facility, who drove them out of the parking lot. On their way out, they warned co-workers heading into the overnight shift not to approach the area.
Ashlee Floyd told The Indianapolis Star that her father has worked at the facility for two decades. She said he usually calls his wife around 11:25 p.m. but he didn't call Thursday, so family tried to contact him but he didn't respond.
"I don't know if he's OK. I don't know if he's injured. I don't know if he's gone. I'm just scared right now," she said.
Live video from news outlets at the scene showed crime scene tape in the parking lot outside the facility.
Jeremiah Miller, a witness who said he works at the facility, told WISH-TV that he saw a man with some kind of rifle after hearing several gunshots.
Another man told WTTV that his niece was sitting in the driver's seat of her car when the gunfire erupted, and she was wounded.
"She got shot on her left arm," said Parminder Singh. "She's fine, she's in the hospital now."
He said his niece did not know the shooter.
Please enable JavaScript to view this content.