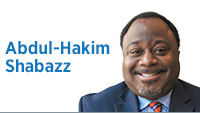 Does Indianapolis' black community need an agenda? There is a growing chorus the answer is "yes."
During news conferences following the recent IBJ/Indy Chamber mayoral debate, incumbent Democrat Joe Hogsett and Republican challenger Jim Merritt were asked if they will have a "black agenda."
Merritt said yes. Hogsett said no, addingthat African Americans should benefit from plans his administration already has on the table.
My "agenda" is based on a poll conducted for my site, Indy Politics, by Mason Strategies. We surveyed issues, including crime, education and infrastructure and segmented the responses given by African Americans.
Here are some thoughts.
On crime and violence:
◗ Since blacks in low-income areas are more likely to be victims than people who live in other parts of the city, leaders should work with state officials to create "economically challenged" zones (which can be based on Census data) and increase the penalties for offenses committed in those areas.
◗ The city should work with the criminal justice system and implement a program in which nonviolent, first-time offenders can be sentenced to school as part of their probation. State law already allows for "work and education" to be part of probation. This will be cheaper than incarceration.
◗ Crime and gun-related violence were the top issues for African American voters. The city should redirect crime prevention grant funding for organizations like the Ten Point Coalition that have a proven track record in reducing homicides in the areas they patrol.
On education:
◗ Our survey showed 63% of blacks support school choice and vouchers, which was 10 points higher than the general population. Educational attainment is a crucial indicator of success. So the city should increase opportunities for more school choice.
◗ The city should partner with the state and Ivy Tech Community College to promote the governor's Next Level education program, which gets Hoosiers back to school to finish their degrees.
◗ The city should partner with not-for-profit and faith-based groups as well as local college and university communities to create after-school zones where children can study, receive tutoring and get mentoring in a safe and productive environment. The city would provide the financing; the faith-based communities and not-for-profits would provide the facilities, and the colleges and universities would provide the mentors and tutors.
On entrepreneurial development:
◗ The city should partner with the Indiana Department of Commerce, the Indy Chamber and the Indy Black Chamber of Commerce to help create, grow and develop black-owned and operated businesses, particularly in economically-challenged communities of color.
On infrastructure:
◗ The city should work with the state to capture a portion of the gas tax collected in certain economically challenged areas and dedicate the money to roads, street and sidewalk repairs in those areas.
On attainable housing:
◗ The city should work with state lawmakers to protect long-time homeowners from skyrocketing increases in property tax assessments due to gentrification. They could do so by freezing assessments in neighborhoods experiencing gentrification until a home is sold or transferred.
◗ The city should encourage developers who receive city tax incentives to build—when feasible—in select areas that have economic challenges.
These are just a few ideas that I think would address the broader issues facing the African American community in Indianapolis. And when you address these issues, you also take care of the collateral issues such as the achievement and economic pay gaps, food deserts, etc. And for the record, this works for the broader community, too.•
__________
Shabazz is an attorney, radio talk show host and political commentator, college professor and stand-up comedian. Send comments to [email protected]

Click here for more Forefront columns.
Please enable JavaScript to view this content.