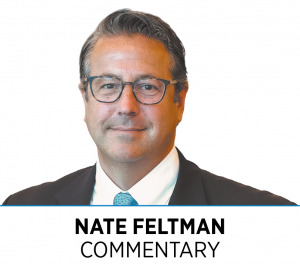 A former colleague of mine told me about something special she and her siblings did a few years ago for her mother's 80th birthday. They took her to New York and enjoyed a Broadway show and all that New York has to offer. Her mom loved it, and they created wonderful memories.
I loved the idea, and my sister did, too. So, we planned a trip to New York for my mother's 80th birthday over Labor Day weekend. I wasn't sure what to expect given the negative publicity New York City has endured over the last couple of years. But my mom was up for it and mentioned that she had heard about a new Broadway show, "Mr. Saturday Night," starring Billy Crystal.
So off to New York we went last Thursday. At 74 years old, Billy Crystal shined, and so did New York. To our delight, the city is back and bustling. Restaurants and museums are packed, sidewalks are filled, and Central Park is full of cyclers, joggers, walkers, kids and dogs. New York felt vibrant and safe.
In addition to our visit to Broadway, we visited the 911 Memorial and Museum, the new World Trade Center, the Museum of Modern Art, and restaurant classics Tavern on the Green, the Russian Tea Room and Carmine's. We had an incredible time. Upon reflecting on what made New York shine (besides the wonderful family time), I decided that a few things stand out.
For one, it felt safe—safer than I feel in downtown Indianapolis most days. When there are people everywhere, there is a sense of safety in numbers. Tourists and New Yorkers were out and about. Dense residential city living provides New York a buffer against the remote-working phenomenon that is hitting our downtown harder than those cities with more residential housing in their downtown core.
It certainly didn't hurt that there was a noticeable and comfortable presence of NYPD officers on busy street corners and other public spaces. I don't feel that same presence of IMPD officers in our city core on most days.
Each morning, I started my day with a walk through Central Park. New York City planners were ahead of their time when they designated and preserved 800 acres in the center of Manhattan as a public park. If we want more downtown Indy residents, we will need to invest in more downtown green spaces that are a draw not only for city dwellers, but for the region as a whole.
As we laughed our way through "Mr. Saturday Night," my mind began to wander. In addition to the great sports teams and facilities that are draws to our downtown, what additional amenities would add to the vibrancy of Indy? Maybe a new performing arts center and entertainment district that could host musicals, plays, opera, ballet, concerts and more.
The only negative experience we had while visiting NYC was the omnipresent stench that lurked around every corner. It wasn't trash piled up, but instead marijuana, which is now legal in New York. If that is what Hoosiers have to look forward to if marijuana is legalized, we might want to continue holding out for that reason alone.
We had a great trip to New York, thanks partly to the positive experience provided by Uber. Uber singlehandedly made New York a better place to visit. We never waited more than a few minutes for a comfortable transfer from a trustworthy and friendly driver at a pre-negotiated rate. A game-changer.
In addition to the wonderful time spent with my mother and sister, I came away convinced that the demise of big cities has been greatly exaggerated. Young and talented people will continue to choose urban living. Let's take the best that New York and other talent magnets are getting right and make Indy an even more attractive destination.•
__________
Feltman is publisher of IBJ and CEO of IBJ Media. Send comments to nfeltman@ibj.com.
Please enable JavaScript to view this content.