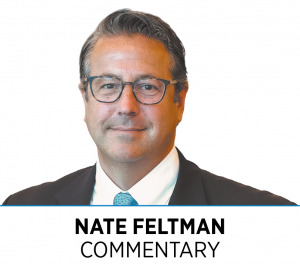 Over the last two decades, Indiana has climbed to the top of most economic-development rankings. After languishing in the middle of the pack or worse, Indiana now ranks in the top 10 for cost of doing business, infrastructure, tax and regulatory environment, and government efficiency.
Since 2005, when then-Gov. Mitch Daniels signed the bill creating the Indiana Economic Development Corp., Indiana's governors and legislators have prioritized Indiana's economic competitiveness, and the results have been impressive. This year, under Gov. Eric Holcomb and his secretary of commerce, Brad Chambers, the IEDC will once again set records for capital investment, job commitments and the average wage associated with the jobs committed.
Among national and international CEOs and site-selection consultants, Indiana has developed a strong business-friendly brand due to a consistent, two-decades-long effort under Govs. Daniels, Pence and Holcomb.
However, Indiana's ability to remain economically competitive for job-creating investments in the future faces significant challenges, one of the biggest being the health of Hoosiers. Given tight labor markets, employers today are having difficulty attracting qualified talent to keep up with the demand of their customers. Unhealthy employees who must seek medical care and miss work compound the worker-shortage challenge and increase employers' health insurance costs.
Credit Holcomb for recognizing that the time has come to better understand the root causes of what ails Hoosiers and to identify ideas for improving the health of our population. Last year, Holcomb created the Governor's Health Commission, led by former State Health Commissioner Dr. Judith Monroe and former state Sen. Luke Kenley. Their recent report highlights our health care challenge and provides a framework for improvement.
The overall health of Indiana's population has been moving in the wrong direction for 30 years. In the 1990s, Indiana ranked middle of the pack for overall health (26th). Today, we rank 40th.
Indiana's population faces higher-than-average rates of smoking, obesity, and infant and maternal mortality. Chronic diseases, some of which are preventable or manageable with better access to health care and earlier intervention, cost Hoosiers $75 billion a year.
Hoosier life expectancy now trails the national average by nearly two years (77, compared with 78.8). The commission's report reveals that health outcomes differ significantly based on where we live and our access to health care. For example, Hamilton County residents on average live to 82 years old, while rural Scott County residents live an average of only 73 years.
The report draws a direct link between state funding of public health and health outcomes. Today, Indiana spends $55 per person on public health expenditures ($375 million annually). That is $36 less than the national average of $91 per person ($250 million below the national per-capita public funding average). As a result, Indiana ranks 48th in the country for public health funding.
Increased public health funding is an investment in our future. Better access to health screenings at our schools, immunizations, ambulance services, infant health programs, tobacco cessation programs and more resources for understaffed local health departments are all part of the solution.
Just as Indiana has prioritized and funded economic development initiatives over the last two decades, we must now focus on a sustained effort to improve the health of Hoosiers. Smart investments in public health will improve Indiana's economic competitiveness for jobs of the future, and most important, save Hoosier lives.•
__________
Feltman is publisher of IBJ and CEO of IBJ Media. Send comments to nfeltman@ibj.com.
Please enable JavaScript to view this content.