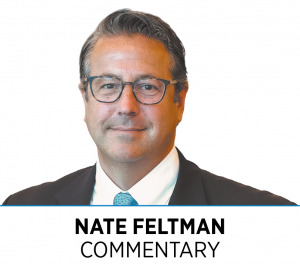 It's not every day that a sitting U.S. secretary of state visits Indiana to talk about semiconductors. After all, the secretary of state's job is to serve as the president's principal foreign policy adviser and America's chief diplomat abroad.
So it was under no ordinary set of circumstances that President Biden's secretary of state, Antony Blinken (along with U.S. Secretary of Commerce Gina Raimondo), traveled to West Lafayette on Sept. 13 and spent the day with Purdue University President Mitch Daniels, Purdue faculty, researchers and students.
But we are not living in ordinary times. The pandemic exposed many vulnerabilities, including America's dependence on foreign suppliers for what has been referred to as the oil of the current and coming economy—microelectronics and semiconductors.
Just about everything that is powered today includes semiconductors—cell phones, computers, automobiles and, yes, military hardware. While Americans pioneered microelectronics, nearly 90% of semiconductors are now manufactured outside the U.S., principally in China.
Indiana's senior U.S. senator, Todd Young, a member of the Senate Foreign Relations Committee, recognized the need for America to lead in the innovation economy and the threat to our national security if we failed to do so.
In 2020, Young partnered with Democratic Sen. Chuck Schumer of New York to spearhead the Endless Frontier Act (renamed the CHIPS Act), bipartisan legislation aimed at funding investments in key technologies, including semiconductors.
Young recognized that the research, development and manufacture of microelectronics must happen in the United States for national security and economic competitiveness.
As Young focused his efforts on national legislation that could help rebuild America's muscle in microelectronics, Gov. Eric Holcomb and former Gov. Mitch Daniels simultaneously focused their efforts to position Indiana as a destination for semiconductor research and manufacturing.
Holcomb increased his efforts to court semiconductor companies like MediaTek, a Taiwanese chip designer. In the summer of 2021, Holcomb hired a successful real estate developer, Brad Chambers, as his secretary of commerce.
Chambers has brought a laserlike focus on building the economy of the future, including microelectronics, in Indiana.
Meanwhile, Daniels' past decade of work at Purdue to grow and enhance what is today the largest engineering college in the United States, and among the five largest in the world, means Indiana is producing the human capital necessary to lead in the semiconductor space.
Daniels' work to supercharge Purdue's industry collaborations helped land one of Indiana's largest economic development deals in history—Skywater Technology's $1.8 billion semiconductor manufacturing facility, which is to be located at Purdue's Discovery Park District.
So when Biden signed the CHIPS Act into law last month, Indiana stood ready to take advantage of the $50 billion appropriated for semiconductor research and production.
Years of building Indiana's pro-growth economic environment, our heritage and strengths in manufacturing, and our pipeline of talent from our top-notch colleges and universities provide the right ingredients for Indiana to lead in a key economic sector.
Rarely do public servants on the federal (Young), state (Holcomb) and local (Daniels) levels synchronize their work and strategy so well. Even rarer when the U.S. secretary of state and U.S. commerce secretary show up in Indiana to recognize that something very special is happening here.•
__________
Feltman is publisher of IBJ and CEO of IBJ Media. Send comments to nfeltman@ibj.com.
Please enable JavaScript to view this content.