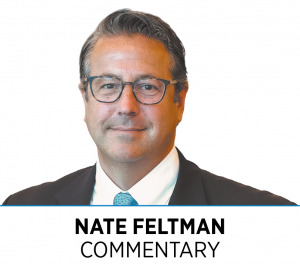 Russia's invasion of its sovereign neighbor Ukraine has been nothing short of brutal and criminal. Thousands of innocent Ukrainians have been murdered or maimed.
In the early stages of the war, there was great debate about whether America and its Western allies should come to the aid of Ukraine. Did Ukraine really matter to America and the West? After all, in 2014, Russian President Vladimir Putin invaded and captured Crimea, part of Ukraine, and the West and America barely blinked an eye.
After 20 years of war, thousands of lives lost and trillions of dollars spent in Iraq and Afghanistan, Americans understandably are reticent to engage in a new conflict, especially one that on the surface does not directly affect us. The Biden administration's bungled pullout from Afghanistan further seemed to turn America inward.
When the Russian invasion began in February, the "experts" indicated that Ukraine and its government would fall within days or weeks. It was only a matter of time, we were told, before Russian forces would overpower the outnumbered and overmatched Ukrainian military.
But the Ukrainians and their fearless leader, President Volodymyr Zelenskyy, outmaneuvered the Russians despite being outmanned. Their willingness to fight and die for their country's independence inspired many and reminded America and its allies that threats to freedom are always lurking. Putin's corrupt regime, including its complete disregard for human life, has been fully revealed.
Putin likely calculated that American and European leaders would talk a big game but, in the end, not interfere with his ambitions to expand Russia's border westward. Europe's reliance on Russian oil and gas, along with few repercussions for Putin's Crimea grab, made this a reasonable calculation. Had Russia's initial invasion—which seemed intent on capturing Kyiv and decapitating its government—succeeded, the West might well have acquiesced.
Instead, the bravery and will of Zelenskyy and the Ukrainian people to stay and fight for their country encouraged America and the West to provide military and financial aid to Ukraine on a massive scale. Rather than further dividing the West, Putin's war has helped unify the West and underscore the importance of NATO. Sweden and Finland, who remained neutral throughout the Cold War, have now applied for NATO membership, a development that surely roils Putin.
After Putin's regime worked for years to divide Americans through election interference and social media propaganda campaigns, his invasion of Ukraine has brought about rare bipartisanship cooperation in Washington. Europe now finally realizes that it can no longer rely on cheap natural resources from a criminal regime, hastening investments in alternative and cleaner energy sources.
Perhaps most important, the war in Ukraine has opened the world's eyes to the danger authoritarian regimes pose to the free world. The Ukrainians' success and the West's support for Ukraine should give pause to China's ambitions to take Taiwan by military force.
Despite its initial reluctance to engage in Ukraine, the Biden administration should be given credit for ultimately supplying weapons critical to pushing back the Russians. But ultimate credit goes to the people of Ukraine, whose homeland has become freedom's latest battleground.
The fight for freedom in Ukraine has much wider implications. As history has shown, authoritarian regimes left unchecked will cause incalculable harm to humanity and ultimately threaten America and her ideals. America and its allies must continue to prioritize Ukraine. After eight months of war in Europe, there is cause for optimism.•
__________
Feltman is publisher of IBJ and CEO of IBJ Media. Send comments to nfeltman@ibj.com.
Please enable JavaScript to view this content.