The final tally of babies born in the United States last year shows the fertility rate fell for the fourth straight year and dropped to an all-time low.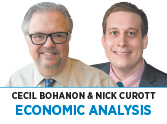 According to a new report from the National Center for Health Statistics, the U.S. fertility rate fell to below 1.73 births per woman, which eclipses the previous low of 1.74 in 1976. This news is concerning, because Americans are not having anywhere near the 2.1 children per woman needed to replace the population of the native-born. But whether the low fertility rate is  ultimately good or bad depends on one's perspective.
From an economy-wide perspective, decreasing fertility rates exacerbate the problem of slowing population growth. Nationally, lower growth of the working-age population is a major reason forecasters predict 2% economic growth each year instead of the 3% that was common in the last half of the 20th century. Declining fertility aggravates the population loss that contributes to the economic decline of small towns and rural areas. Decreasing fertility rates also accelerate the aging of the U.S. population. This strains Social Security and Medicare, as fewer working-age individuals pay taxes into these systems relative to retired beneficiaries.
From the individual's perspective, however, lower fertility rates in the United States and other developed countries broadly reflect the continuation of positive economic trends. Increased affluence gives people options not available in poorer societies. Children aren't needed as workers or to support parents in old age. Higher levels of education and more lucrative career opportunities for women increase the opportunity cost of a family having additional children. Smaller families with higher incomes are able to participate in educational, leisure, travel and cultural activities previously reserved for aristocratic elites. And longer life expectancy enables people to stretch out every phase of life.
Increased access to birth control also plays an important role. It enables lower fertility among women of all ages. Indeed, last year's data indicate U.S. birth rates fell most among teenagers. Since 2007, births to teens have fallen from 41.5 per thousand to 17.4 per thousand—a whopping 58% decline.
Bottom line, Americans today have higher incomes and more gender equality than ever before. Young people are weighing their options and choosing to postpone marriage, have fewer kids and pursue lifestyle options unimaginable to their forebears. Overall, the greater freedom that rising incomes and modernity afford people is a positive thing worth celebrating.•
_______
Bohanon and Curott are professors of economics at Ball State University. Send comments to ibjedit@ibj.com.
Please enable JavaScript to view this content.