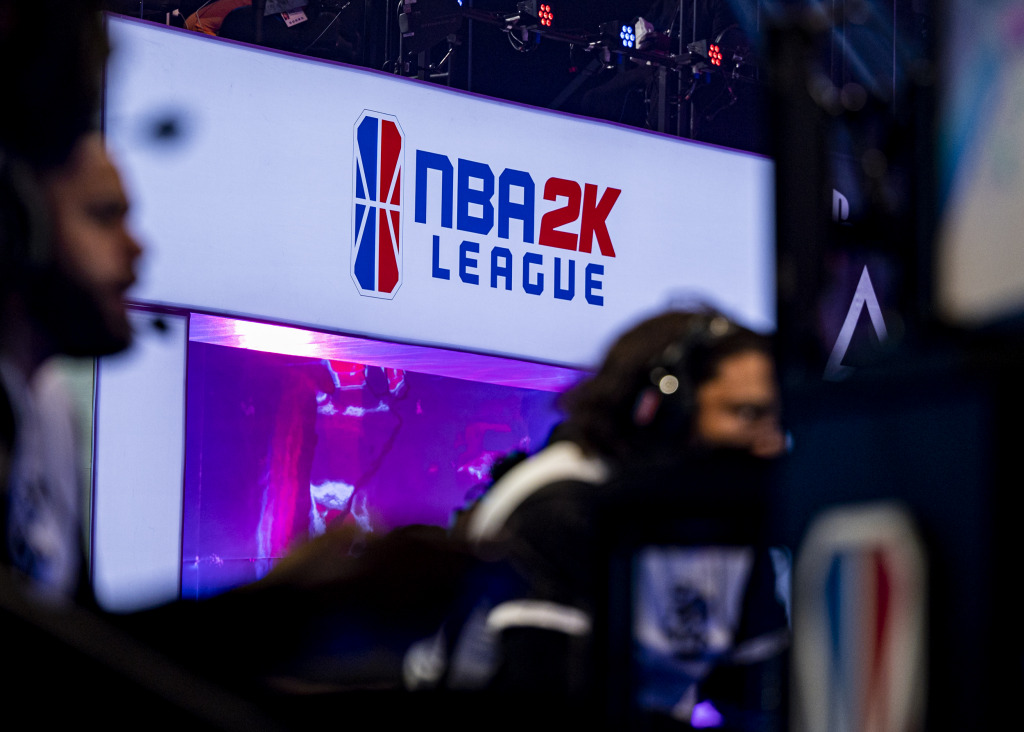 The NBA 2K League's season in Indianapolis got underway Wednesday night with a single-elimination round of Tip-Off Tournament games at Pan Am Pavilion.
The first major in-person esports event to be hosted in the city, the 2K League tournament drew more than 250 people to its custom-built studio space across from the Indiana Convention Center.
The crowd was largely composed of players' family members and friends, though dozens of members of the general public also attended. It also included several local sports executives, including those from Pacers Sports & Entertainment and the Indiana Sports Corp, who were directly involved in bringing the event to the city.
The studio is designed for two contests to run simultaneously, with stages consisting of 10 individual screens and gaming consoles, with larger jumbotron-style screens suspended from above that show gameplay.
Most of the roughly 250 seats at the venue were filled throughout the evening, though the league has not shared specific attendance figures.
Lindsay Ullman, head of business development for the 2K League said she's been so far been impressed with Indianapolis' hosting chops. About 10 teams will spend the next four months in the city, while the other 14 will travel back and forth for major tournaments here. 
"It's a commitment to innovation, and I think you see that by the [Indiana Sports Corp] and Pacers Gaming helping to bring us here," she said. "This is a new type of basketball [fans are] getting to experience, so we're excited for people to get to see that."
Ullman said she expects thousands will make their way to the Pavilion over the next several months to take in some games.
"We know this is really new, but we're excited to get more people in to experience this live," she said. "Whether it's the trash talk, whether it's the level of play, or whether it's the fact that you can be an esports professional … that's intriguing to people. So, we want to have you out to experience it in person."
Many players tend to taunt their opponents after big plays—something the league has embraced as part of its atmosphere.
Sam Luke attended Wednesday's games with two friends. He said he had never seen an esports event before, but was interested because he enjoys sports and wanted to experience the event in his city.
"I think this is a really cool event, and it's really fun to see all the players here and see them yell at each other," he said. "If someone is able to get here and experience this, I would definitely encourage them to … because it's a fun environment. I had no idea what to expect when I came here, but it's been a lot of fun."
Tickets are now on sale for $15 each, plus fees for the remainder of the Tip-Off tournament, which runs through Saturday. Group tickets at $10 per person for 10 or more people are also available. Several more events will be held in the city throughout the spring and summer. Visit the NBA 2K League's website for details.
Please enable JavaScript to view this content.