Only 15 of the more than 28,000 COVID-19 tests conducted over the course of the NCAA Men's Basketball Tournament were positive, the organization announced Tuesday afternoon, one day after the tourney wrapped up with Baylor University capturing the championship at Lucas Oil Stadium.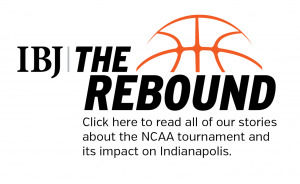 "[It's] giving us great confidence that we're sending teams and staff home and back to their communities safe and healthy," said Dan Gavitt, NCAA senior vice president of basketball, at a news conference.
The positivity rate was just .05% over the 28,311 tests that were given. That includes testing done throughout Monday. Indiana University Health conducted the NCAA's local testing.
"Indianapolis has, of course, always been our home here for the last 15-plus years for the NCAA and a regular host for NCAA championships," Gavitt said. "I think that was just deepened so much over the last month," with "the willingness to go to great lengths to have successful championships here."
The biggest logistical challenge to the tournament? Safely housing, feeding and moving 68 teams living in four hotels to and from competition venues, he said.
About 173,592 people attended the tournament's 66 games—about a quarter of the total number of fans that attended the last tournament, in 2019, Gavitt said. The venues limited capacity at this year's games to 22% or less because of the pandemic.
Please enable JavaScript to view this content.