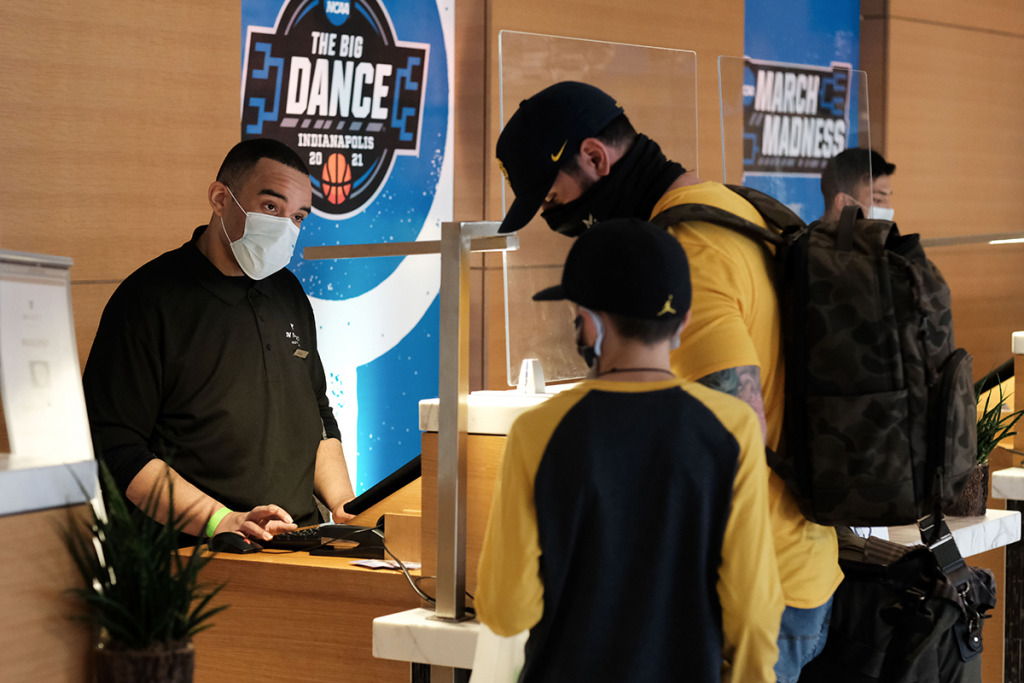 Downtown just had its best weeks for hotel occupancy since well before the pandemic, thanks to an NCAA Tournament that brought 68 men's basketball teams—plus their entourages and a limited number of fans—to the city.
But with the tournament wrapping up Monday, will downtown's hotels return to their pandemic slumber?
Hospitality leaders say no, although it will be some time before occupancy rates are back to normal.
Immediately following March Madness, two events will move into the Indiana Convention Center: a youth basketball tournament and a religious conference, with each expected to draw about 4,000 attendees.
In all, about a dozen events are scheduled for this month.
"We do have optimism for April in particular … to keep momentum moving forward, based on the sheer volume of meetings happening," said Visit Indy Vice President Chris Gahl. "We are asking our hospitality workforce to stay optimistic and to stay staffed as we prepare to host those events."
The next truly major draws come in May, when a volleyball tournament lands in the city and the Indianapolis 500 runs on Memorial Day weekend.
Amanda Cecil, an IUPUI tourism professor who has followed the industry for 20 years, said she doesn't expect hoteliers to suffer a "major letdown" after March Madness, because, even in a typical year, big events are followed by a bit of a lull.
"That's just the nature of the business," she said. "Of course, we're not in a normal time right now, but I think the hospitality industry is going to appreciate the March and early April business that came with the tournament, while hoping it means we get similar types of businesses in the future."
More business is coming, assuming there's no resurgence of the pandemic to cancel events.
In all, more than 200 meetings, sporting events and expositions are scheduled through the rest of the year—and still more could be added.
Those events range from 20 people to 88,000. But about 45 are expected to have at least 2,000 attendees—and about a dozen are projected to have an economic impact of $10 million or more.
Gahl said he's pleased with the year's remaining slate but cautioned that each event's full impact won't be known for months, especially since the pandemic continues to temper travel.
In a strong position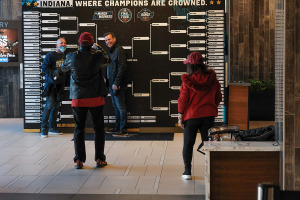 Gahl said Indianapolis is outperforming peer cities like Nashville, Columbus and Louisville in the number of events on its calendar this year.
The city has also managed to snag some big events from Chicago, including the Sweets & Snacks Expo in June. Chicago has been reopening its tourism and hospitality industry much more slowly than has Indianapolis, which began hosting events last summer, starting with several youth basketball tournaments.
Gahl said the local hospitality industry has been "able to cling on" by retaining most of its 2021 business, adding events and rescheduling some that were postponed in 2020.
Visit Indy anticipates 2021's scheduled events—not including the Indianapolis 500, Gen Con and the NCAA Tournament—will have a total economic impact of $545 million.
"Our optimism is born out of canvassing other cities and what they have on their books," Gahl said. "That stirs up a sense of pride that we have kept this sheer amount of convention business on our books."
Brandon Howell, assistant dean of operations for Indiana University's School of Public Health, said Indianapolis' success in hosting events throughout the pandemic has put it in position to host more big conventions this year.
"As we continue to have these large-scale events in a safe way—where there's not any cases of the event causing an uptick in COVID cases—then I think you will see more and more [conventions] take place," he said.
That's not to say the pandemic isn't continuing to have a dampening effect.
The Indianapolis 500, slated for May 22, could draw as many as 300,000 fans after a year it raced with nobody in the stands. But the Indianapolis Motor Speedway has not yet said how many tickets it plans to sell.
"We'll continue working with officials to determine the specifics in place and will provide an update closer to May," IMS said in a statement in March. "We're still more than 60 days out, and more and more people are receiving their vaccine, including nearly 100,000 Hoosiers at IMS in April."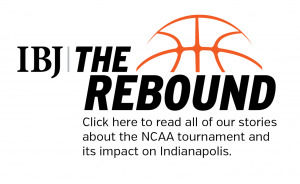 In addition, some groups have reevaluated their event plans for the first half of this year, although many have done so with an eye on later 2021 dates. That includes one of the city's largest annual conventions—the Fire Department Instructors Conference—which moved from late April to Aug. 2-7.
That event is expected to host about 20,000 people this year, an organizer told IBJ. The conference has brought 30,000 to 35,000 people to Indianapolis in past years. But its nearly $35 million in projected economic impact is still expected to be one of the biggest of the summer.
Other major events will include July's Indiana Black Expo, with plans for 88,000 participants. Indy PopCon and the United Pentecostal Church North American Youth Conference are also scheduled in July, with expected visitors of 15,000 and 25,000, respectively.
The remaining convention and event calendar is expected to result in nearly 442,000 hotel room nights (a total of 552,000 on the year). That's significantly less than the 801,000 in 2019, but more than double the 205,000 in 2020.
Story continues below graphic
Still minimal staff
Even with these big events on the horizon, hotel staffing levels are nowhere near those of pre-pandemic times—and they likely won't recover for a while, partly because business travel is still sluggish.
Phil Ray, general manager of the JW Marriott, is coming off the first sellout in the hotel's 10-year history, as the NCAA booked the entire property for 10 days to host 26 teams and some volunteers.
But the JW is working with a staff that's about 35% of its pre-pandemic size. And Ray said, until business travel returns, that's about where it will stay.
"Weekday business is returning—we know it's coming. It's just a matter of how quickly and how consistently," he said. "The question will be if we can get enough staff to be able to provide the same level of services we're used to providing."
Jim Dora Jr., president of Indianapolis-based General Hotels Corp., said most of his properties are also running at minimal staff, even during the final weekend of the NCAA Tournament. He said it doesn't make sense to bring back workers for a few weeks only to let them go once an event is over.
For now, Dora said, he and other hoteliers are looking to see what happens into the summer before deciding to bring back more workers.
"I'm going to guess, if my crystal ball is working, that after [the tournament], we'll probably continue bringing in more sports business in the months ahead, because that's been successful," he said, adding that those events will provide sustained weekend occupancy, but will not boost abysmal weekday figures.
"If the shows in May and June—and the Indy 500—go off like they're supposed to, and if we've turned the corner on COVID to give people some confidence, that's probably when things would start to turn for the industry," he said. "But people are awfully skittish right now."•
Please enable JavaScript to view this content.