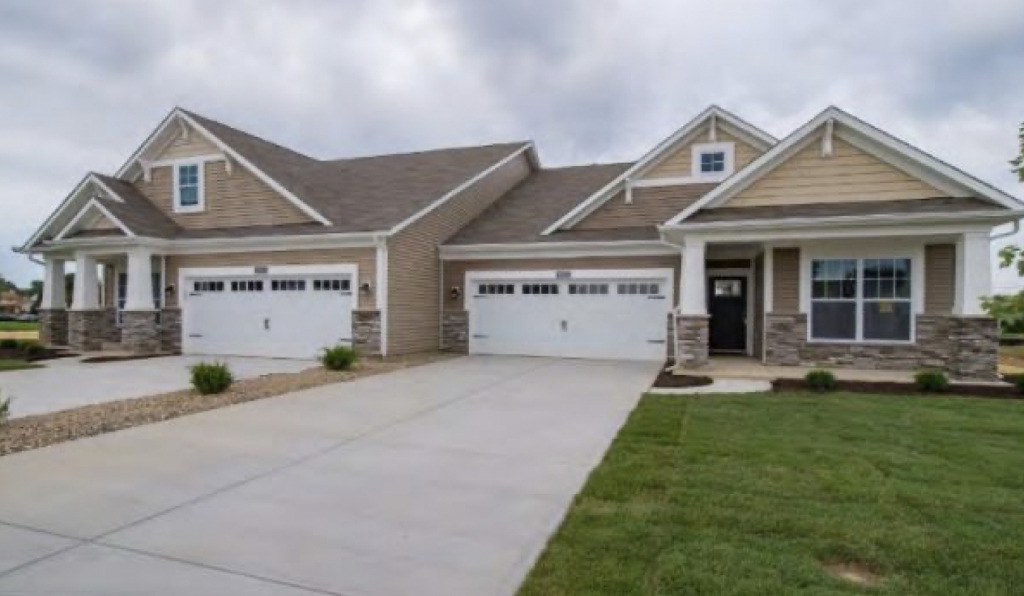 A developer hopes to take ownership of a portion of land currently dedicated to further developing Finch Creek Park in Noblesville to build a new neighborhood.
M/I Homes of Indiana has proposed building 378 paired villas, townhouses and single-family homes next to Finch Creek Park, which is still under development.
The neighborhood, which would be built on a 177-acre vacant property stretching south from State Road 38 past East 166th Street, just west of Boden Road, would include 98 paired villas, 66 townhomes and 214 single-family homes. Plans also call for a community pool, a one-mile walking and biking trail and other connecting paths that would provide existing neighborhoods access to the park.
The project was presented to the Noblesville City Council this week. In addition to requesting a rezone to change the property's zoning from agricultural and government uses to R-3 moderate-to-high density single family residential  and R5 multi-family residential, the developer also hopes to reach an agreement with the city to take ownership of some city-owned land currently designated to further develop Finch Creek Park.
M/I Homes has proposed building more than 60 of the homes on city property and has presented to Noblesville a land swap that would give the city a 33-acre portion of the unincorporated Whitecroft Farms Inc. parcel to the north in exchange for the property needed to build the homes in Finch Creek Park. According to county property records, M/I doesn't currently own the Whitecroft Farms Inc. property. More details about the amount of land needed, how it would be swapped—and whether the city is even supportive of the proposal—were not presented publicly or in documents. Emily Gaylord, spokeswoman for the city, and Keith Blais, vice president of land for M/I Homes Indiana, declined to comment for this story.
"The developer presented that option as a first look courtesy, and (it) has not been vetted internally or seen by our attorney," Gaylord said "Once it is formally in front of council, we could provide more details. That would be mid-March. Until that point, any comments would be speculative in nature."
The park encompasses about 200 acres, though only 26 acres have currently been developed. The first phase, which was completed last fall, includes the privately-owned $15 million Finch Creek Fieldhouse developed by Klipsch-Card Athletic Facilities, two playgrounds, a shelter with a restroom, a splash pad, four pickleball courts and a basketball court, another trailhead restroom on the east end of the property along Boden Road and a trail system throughout.
Plans for the remaining acres remain fluid, Noblesville Parks and Recreation Director Brandon Bennett told IBJ.
"We don't necessarily know what phase two, three, four, five, six and beyond is going to look like yet," Bennett said. "That's evolving as we continue. Two hundred acres is a big, big piece of park to develop. You're going to build it like you'd eat an elephant—one bite at a time."
Early plans called for more-passive features to be built where M/I Homes has proposed building on the park's west side. Those features include a nature center, a disc golf course and an events area.
But during the council meeting Tuesday, Steve Hardin, an attorney for Faegre Drinker Biddle & Reath who is representing the developer, said the single-family homes would replace a parking lot if the city and M/I Homes can come to an agreement on the land.
He said Silo Ridge could serve as a gateway into Noblesville from its eastern boundary and keep the land that's outside the park from being developed for industrial uses.
There are a growing number of industrial operations near the intersection of State Road 38 and Boden Road. Already, Irving Materials Inc. operates a gravel pit and owns several other parcels of land in the area. There's also an existing E&B Paving asphalt plant and plans for a future sanitary sewer treatment plant nearby.
The townhomes proposed for Silo Ridge are expected to sell for between $220,000 and $260,000, while the single-family homes would likely sell for between $260,000 and $420,000. The paired villas would start at $230,000.
If the rezone and land swap are approved by the Noblesville City Council, M/I plans to begin construction on the project by summer.
Please enable JavaScript to view this content.