Local developer Onyx+East plans to spend about $14.7 million to build 55 townhouses along the Monon Trail and the eastern border of the Meridian-Kessler neighborhood.
The project, tentatively called 46th and Monon, would consist of 12 buildings on a nearly 2.5-acre site at 1140 E. 46th St.
The oddly-shaped parcel would generally run north-and-south along the former railway, which is the eastern edge of Meridian-Kessler.  The property extends east to Carvel Avenue, which places it within the western edge of the Keystone-Monon neighborhood.
The townhouses planned for the development would each be three stories, with units ranging from 1,270 square feet to 1,876 square feet. The average unit size would be about 1,610 square feet. Each of the homes would have two to three bedrooms and two-and-a-half bathrooms.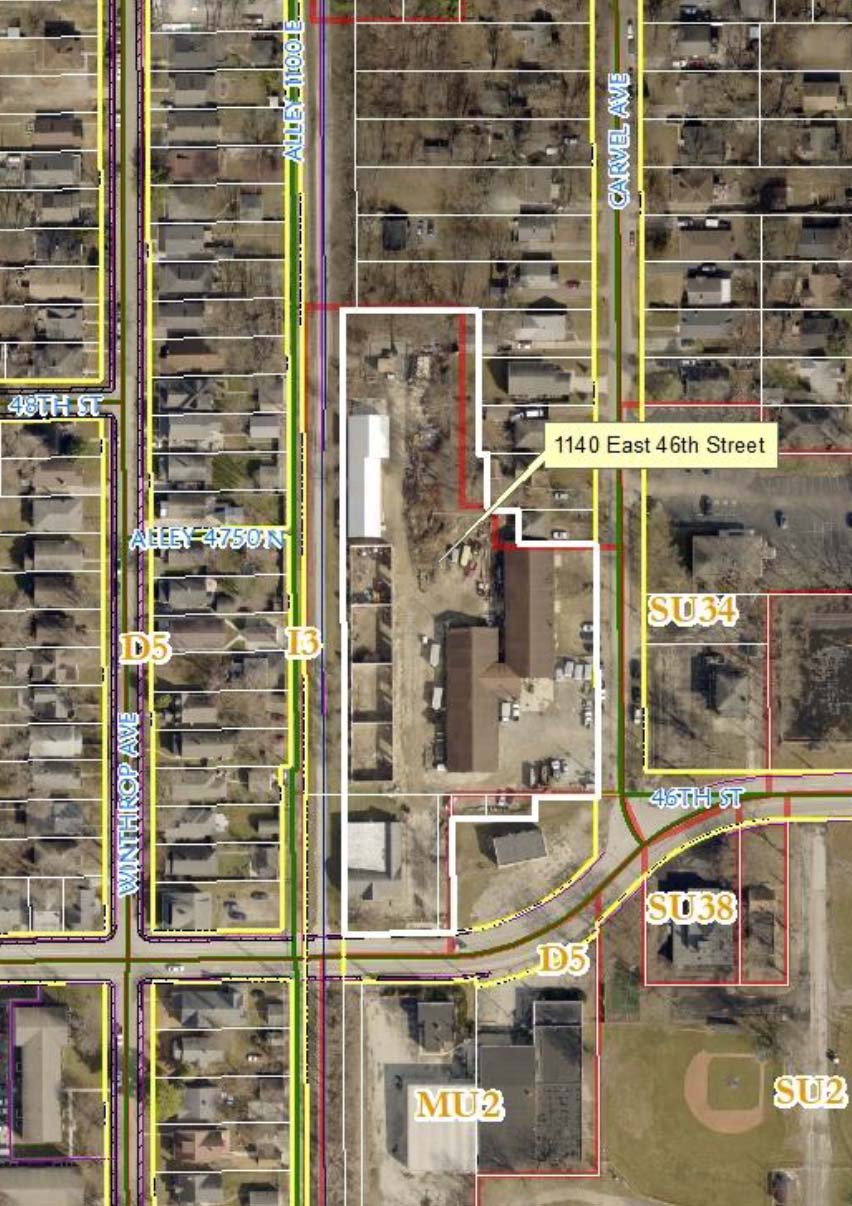 Most of the units are expected to have private, two-car garages—except for about 19 units less than 1,500 square feet, which would each have a one-car garage.
According to development plans filed with the city, select units would have second floor rear balconies, while others would have an option for a front terrace on the third floor. Further, some of the homes would have an option for a rooftop deck.
The homes, which would be accessible from new curb cuts along Carvel Avenue and 46th Street, are expected to range in price from the high $200,000s to the low $400,000s.
The project will include an enhancement to landscaping along the Monon Trail—along with a direct access point to the trail itself—and new sidewalks along Carvel and 46th Street.
The project is set to go before the Department of Metropolitan Development's Metropolitan Development Commission on Wednesday, with Onyx+East seeking approval to rezone the property from industrial and dwelling classifications to that of a planned development.
The property set for redevelopment was formerly the Broad Ripple Business Park and headquarters for the Indianapolis Tradesman Guild. The land is under contract from current owner E. 46th St. Realty Corp., pending approvals from the city.
Onyx+East has been particularly active over the past 12 months, lining up at least a half-dozen new townhouse projects throughout the city. Recently, it announced plans for a $3.5 million project in Fountain Square, along with a $6.5 million project in the Old Northside neighborhood. 
It also is involved in a massive project in Noblesville that would include at least 123 townhouses, along with duplexes and single-family homes.
Construction on the 46th Street project is set to begin by the third quarter of 2022, with completion set for the second quarter of 2025.
Indianapolis firm Rottmann Collier is the architectural firm on the project
Please enable JavaScript to view this content.