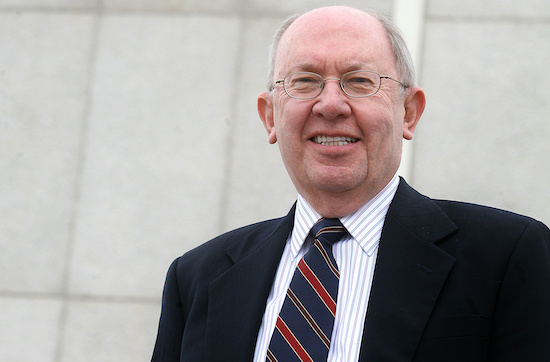 Is it time to bring Indiana politics back to the center?
Leaders forming Recenter Indiana, a new political action committee, certainly think so.
"Most of the people I'm associated with are absolutely angry with the current political dialogue," said PAC chair Don Knebel, a Democrat and retired law partner at Barnes and Thornburg. "Candidates are moving from the middle to the extremes and yet most of the citizens are in the middle."
So he said he's teamed up with PAC treasurer Corrie Meyer, a Republican who once ran for state senate in Carmel, to create a non-partisan approach to raising money that would support candidates in the fall election that are at the middle of the political spectrum, without regard to party affiliation.
At the same time, the duo also has joined forces to form Recenter Indiana Inc., which is seeking not-for-profit status. It will educate voters on strategies to reduce polarization in politics.
Meyer could not immediately be reached for comment. In Indiana political circles, she is best known for running a spirited but unsuccessful GOP primary campaign in 2018 to oust staunch social conservative Mike Delph from the Indiana Senate. Delph would go on to be defeated in the general election by Democrat J.D. Ford, the first openly gay member of the Indiana General Assembly.
The Recenter Indiana PAC's statement of objectives says it will support "political candidates, regardless of political party, who value bipartisanship and maintain the following core values; (a) believe in problem-solving through reliable information and civil conversation with those of varying opinions, (b) believe in empathetic listening, (c) rejects violence, (d) champion equality, (e)  respect the rule of law, and (f) believe a collective commitment to America is far greater than loyalty to an individual political parties and/or positions."
The PAC could also encourage voters to cross over and vote in the opposite party's primary to help more moderate candidates emerge victorious over more extreme candidates.
Knebel said there are several other people involved or interested in both the PAC and the not-for-profit but that the ventures are still in the very early stages of organizing.
He said he doesn't want to name other participants until he's formed governing boards that clearly convey the non-partisan nature of the effort. He said his goal is to have boards comprised of less than 50 percent Democrats, less than 50 percent Republicans and some independents and Libertarians.
"I have a fundraising goal, but it's going to sound really ridiculous," Knebel said. "So I'm going to hold it until I have some confidence I can make this work."
Nationally, some analysts have pointed to crossover voting and strategies like those envisioned by Recenter Indiana as the reason that candidates endorsed by former President Donald Trump didn't fare well in the recent Georgia Republican primaries.
Nearly 67,000 Georgians who cast votes in the Republican primary last month had voted in the Democratic primary in 2020, according to The Washington Post.
That number alone could help account for incumbent secretary of state Brad Raffensperger winning more than 50 percent of the vote and avoiding a runoff against Trump's pick for the job. Of course, that's assuming that nearly all 67,000 Democratic crossover votes went to Raffensperger, who cleared the 50 percent threshold by just 55,000 votes.
However, an analysis by The Post shows that most of those "crossover" votes weren't cast by pure Democrats. Most were cast by swing voters who routinely bounce from one party's primary to the other year after year.
Chad Kinsella, associate professor of political science and director of the Bowen Center at Ball State University, said strategies to lift moderate candidates are lofty in their goals to try to ease gridlock, encourage compromise and prevent dealmakers from being demonized as sellouts.
If those goals could be accomplished, Congress' 10-year stalemate over how to deal with gun violence might have ended long before now, he noted.
"But given what I know about politics, this [non-for-profit] is probably going to have a hard way to go," Kinsella said, noting that the most polarized voters typically vote in primaries. "We've got a long way to go to get back from our polarized electorate."
Knebel acknowledges that he's not sure that his "recentering" efforts will work either.
"But Margaret Mead once said the only things in society that have happened to the good have come from a small, committed group of people," Knebel said, "and that's what we're going to be."
Please enable JavaScript to view this content.