Two recent polls show Indiana's Republican Gov. Eric Holcomb safely winning reelection next week.
One poll conducted by Cygnal on behalf of the Ready Education Network found 47% of respondents saying they will support Holcomb, 29% will support Democratic candidate Woody Myers and 15% will support Libertarian candidate Donald Rainwater.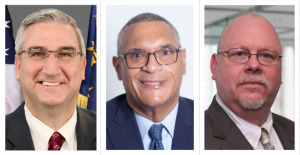 The poll was conducted by phone Wednesday through Friday and includes responses from 600 likely voters. It has a margin of error of plus or minus 4%.
In another poll conducted by Ragnar Research Partners for the Rainey Center, Holcomb leads with 52%, compared to Myers with 26% and Rainwater with 14%.
It was conducted by phone from Oct. 18-21 with more than 600 likely voters. It has a margin of error of plus or minus 4%.
Within the Rainey Center poll, 22% of voters said they had already cast their ballots. Among those who had already voted, 49% said they supported Holcomb, 38% said they supported Myers and 8% said they supported Rainwater.
The poll from the Rainey Center, which describes itself as a post-partisan think tank, also asked about the presidential race. Forty-eight percent of respondents said they were supporting Republican President Donald Trump, while 40% said they were supporting former Democratic Vice President Joe Biden.
Trump won Indiana by nearly 20 points in 2016, but political observers are expecting that margin to be smaller this year. Of those who had already voted, 54% said they voted for Biden and 37% said they voted for Trump.
The poll from the Ready Education Network, a conservative advocacy organization that supports school choice, showed Holcomb with a favorability rating of 53%, while Myers' favorability rating was 27%. It did not ask respondents how they felt about Rainwater.
In that poll, voters were split on whether they were more concerned about the public health or economic crisis caused by COVID-19, with 49% saying the public health impact was more concerning and 44.5% indicating the economic impact.
The Ready Education Network poll also asked how voters felt about giving parents control over a portion of the tax dollars designated for their children's education when their child's school is operating virtually. A majority—56%—said they support the idea, while 20% said they oppose it.
Election Day is Nov. 3.
Please enable JavaScript to view this content.