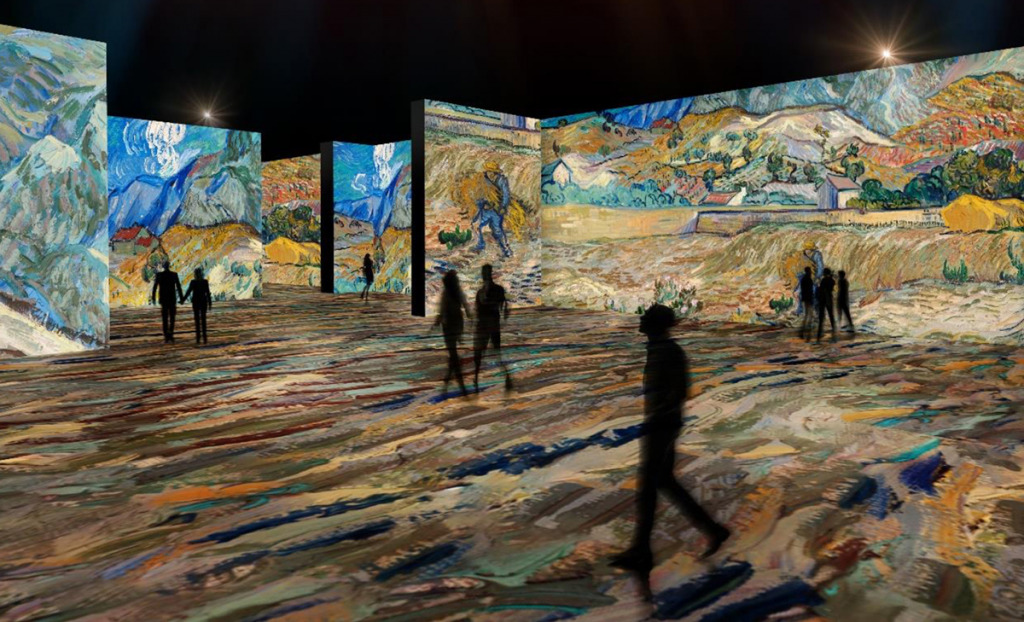 The Indianapolis Museum of Art at Newfields on Wednesday announced the largest exhibit in its history, an immersive digital art experience known as The Lume Indianapolis.
The 30,000-square-foot exhibit is expected to occupy the museum's entire fourth floor starting in June 2021 and will open with artwork from Dutch painter Vincent Van Gogh. The project is being funded by the Lilly Endowment Inc. A direct investment figure was not immediately disclosed.
The Lume will be comprised of nearly 150 high definition projectors that can render floor-to-ceiling, three-dimensional representations of artwork. The Van Gogh exhibition will include takes on work like "The Starry Night" and "Sunflowers," along with about 3,000 other images. Newfields already has one Van Gogh original, Landscape at Saint-Remy, on display in its gallery.
The images in The Lume will be set to a classical music score, with food and beverage elements and retail options also expected to be part of the visitor experience.
Newfields will be the first museum in the United States to offer this type of digital art experience, which stems from a partnership with the concept's creator, Australia-based Grande Experiences. The firm, which has plans to open the first permanent Lume experience early next year in Melbourne, has held more than 190 exhibits in 145 cities in the past 15 years, drawing in 17 million visitors.
"After five years of research into art consumer motivation and innovative digital exhibitions in Asia, Australia and Europe, we are thrilled to unveil The Lume Indianapolis at Newfields next year as a groundbreaking addition to what we have to offer," Newfields CEO Charles Venable said in written remarks. "Welcoming diverse audiences is a major goal of Newfields, and we believe The Lume Indianapolis will attract infrequent art museum visitors because they will be able to fully immerse themselves in an artist's work in less formal ways than in a traditional gallery."
Venable said The Lume is "more than an exhibition, it is an experience."
Bruce Peterson, founder of Grande Experiences, said The Lume aims to be drastically different from what audiences have become accustomed at art museums.
"The cultural scene is vastly changing as visitors demand new experiences," he said in written comments. "Today, we engage many more new audiences through [the multi-sensory] style of experience. We are engaging new audiences to appreciate the arts in a different way, and we know from our work internationally that it will encourage more people to visit places like Newfields with renewed appreciation."
The Lume will be available as an event space starting next summer, and general admission tickets will go on sale ahead of its opening.
Please enable JavaScript to view this content.