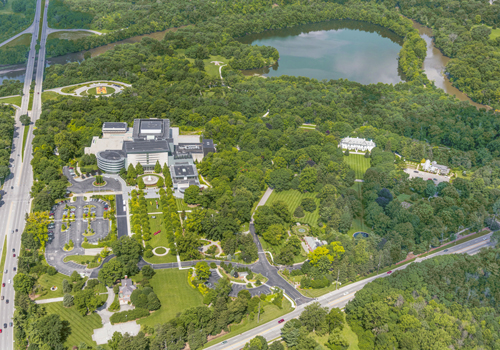 The Indianapolis-based arts and nature campus Newfields plans to tighten its masking policy beginning on Tuesday, requiring all patrons and staffers to wear a mask when inside, regardless of vaccination status.
The campus at 4000 Michigan Road appears to be the first major cultural attraction in the city to require masks indoors for all staff and guests since the most recent surge in COVID cases began. The main center of activity in the campus is the Indianapolis Museum of Art, but it also includes smaller indoor attractions, several gardens and the 100-acre Virginia B. Fairbanks Art & Nature Park.
Patrons and employees also will be required to wear masks outside when social distancing isn't possible, according to a media release.
Newfields' prior policy strongly encouraged that people who had not been vaccinated wear masks.
"Nothing is more important to us than the safety and well-being of everyone who walks through our doors. With the growing concern over the rise of COVID-19 cases in our area, Newfields has made the decision to implement a mask requirement for all staff and guests, regardless of vaccination status," said Kathryn Haigh, chief operating officer at Newfields, in a media statement.
"We will evaluate the policy based on the state of COVID-19 cases in our area and update as necessary," she said.
The museum recently debuted a major indoor attraction: The Lume, which covers 30,000 square feet of exhibit space with projected images of work by featured artists. Its current focus is Vincent Van Gogh.
COVID-19 infections have been skyrocketing across the state and nation over the last two months. Cases in Indiana were under 200 per day in early July but topped 5,000 per day last week. Similarly, the total number of COVID patients in Indiana hospitals was less than 400 in early July, but they topped 2,100 late last week.
The total number of COVID deaths in the state since March 16, 2020, is nearly 14,000.
Please enable JavaScript to view this content.