Is logging a good way to manage Indiana's forests?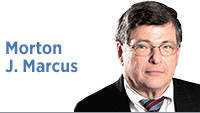 Once we feared the "brain drain." Now we are dissatisfied with the resultant residue.
"Why don't people want to stay or come here?" We ask ourselves this question and respond with a set of answers easily classified as "image," the mental picture Hoosiers and others have of Indiana.
Rust belt. Corn fields. Smog and soot. Flat land. Small=town boredom. Ma Perkins. 500-mile race under a blazing sun. Basketball. Ball jars for canning. RVs and mobile homes. Orville Redenbacher. Touchdown Jesus.
We have at the ready a list of "don't haves." We don't have mountains or a seashore. We don't have a major entertainment center and our major airport is not a hub. People don't flock here for persimmon pudding.
When Indiana was heavily forested and very swampy, we cut down the trees and drained the swamps as we built an agricultural and industrial powerhouse.
Early in the last century, we envisioned state forests as a way of restoring land that had been exhausted by 18th century farming practices that destroyed large stands of trees, allowing erosion and the resultant silting of rivers. We recognized the role of forests in land conservation and the protection of our waterways.
We saw state forests serving traditional functions: timbering, hunting, fishing and trapping. Incidentally, these areas could be used in a limited fashion for camping and recreation.
Now, in the 21st century, it's time to reconsider the uses of our land as a way of attracting and retaining people, rather than industries.
The footloose cyber workforce we seek is reputed to put a high value on the outdoors both in its concentrated rural form and its dispersed urban form. Therefore, we should increase the acreage devoted to forested land where today we have marginal agricultural uses. In addition, we should protect and enhance the urban forest canopy.
Why continue to emphasize timbering, hunting, fishing and trapping in our state forests when those activities are of decreasing importance to the people of Indiana? Trees on our public lands for making furniture and for home building in our state are not needed. Private lands can easily supply all the timber that might be taken from state forests. And why is the state in the business of growing trees for harvesting? We don't do that with corn, soybeans, strawberries or mint.
To make our cities and towns more attractive, Indiana should embark on a major tree-planting effort in all those areas where homes were built on naked streets. Property values on tree-lined streets tend to be higher than those with comparable structures on barren roadways.
Together, state forests with extensive hiking trails through majestic expanses of wilderness and an enhanced urban canopy for cities and towns will project a reimagined Indiana to the world. It would be a giant leap into the future for Indiana and a small step globally to offset the damages inflicted on the environment for 100+ years with our use of polluting fuels and chemicals.•
__________
Mr. Marcus is an economist and Director Emeritus of the Indiana Business Research Center at IU's Kelley School of Business. Send comments to ibjedit@ibj.com.

Click here for more Forefront columns.
Please enable JavaScript to view this content.