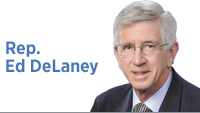 Maybe it is because this essay is being written in England that I am reminded of the old saying: "Penny wise and pound foolish."
Our governor has chosen to save pennies on interest for new roads. He will pay cash for pavement rather than using our spare revenue on our growing teacher crisis. He has chosen to spend more than $40 million on a new swine barn over investing in our children. Meanwhile, it is ever more difficult to recruit or retain teachers.
Perhaps the governor misses the point: Roads last 30 years and are fit for financing; young minds need good teachers now or they are set back for life.
Let us be clear. The governor concedes that we are not competitive with our neighboring states when it comes to teacher pay. His response is to set up yet another commission to study the problem. Meanwhile, our teachers fall further behind those in other states and leave Indiana or the profession.
It is pretty clear what we need to do. Indiana needs to spend more state revenue on our schools to buttress our reliance on local property taxes used to fund buses and buildings. The public understood this logic when it supported property tax caps.
Let us wash a little dirty linen. Not all our teachers are as poorly paid as others. Thus, starting pay ranges from $30,000 to more than $40,000. Some districts pass supplemental property tax referendums to support teachers. Others don't or can't provide this revenue. And the stress on taxpayers is unequal.
Let's look at two districts that did pass referendums to increase educational support.
Carmel-Clay Schools in Hamilton County and Wayne Township Schools in Indianapolis both have a little more than 16,000 students. But that's where the similarities end.
Carmel has taxable property worth $7.17 billion, while Wayne Township has only $2.76 billion in assessed property value. Both districts passed a referendum to send more dollars to the classroom, an amount over the property tax caps. When all was said and done, Wayne Township voters taxed themselves an extra 35 cents per $100 of assessed value and generated $10.4 million per year. The Carmel figures were an extra 19 cents per $100, yielding $18.4 million.
When all the tax rates for schools are added up, Wayne Township homeowners pay $1.85 per $100, while those in Carmel pay $1.02 per $100. Carmel schools have a poverty rate of 2.36%, while the figure is 29.7% in Wayne Township. The state does make supplemental payments based on poverty, but it's not enough to overcome the burdens of poverty, let alone the disparity in property values.
The point is simple: Taxes based on property values cannot equitably and broadly fund improved teacher pay. Nor can gimmicks like the current reduction in pension contributions that will supposedly lead to higher teacher pay.
The governor wants to improve teacher pay somehow, someday, as long as the increases are "systematic" and "sustainable." Those are lovely words. The governor needs to start by committing to a substantial pay raise, based on state dollars. He also needs to act now.
There is no shortage of ideas to help teachers now, using state funds. These include incentives for increased starting pay, support for the cost of counseling, and help with student loans. They don't include paying cash for swine barns.•
__________
DeLaney, an Indianapolis attorney, is a Democrat representing the 86th District in the Indiana House of Representatives. Send comments to ibjedit@ibj.com.

Click here for more Forefront columns.
Please enable JavaScript to view this content.