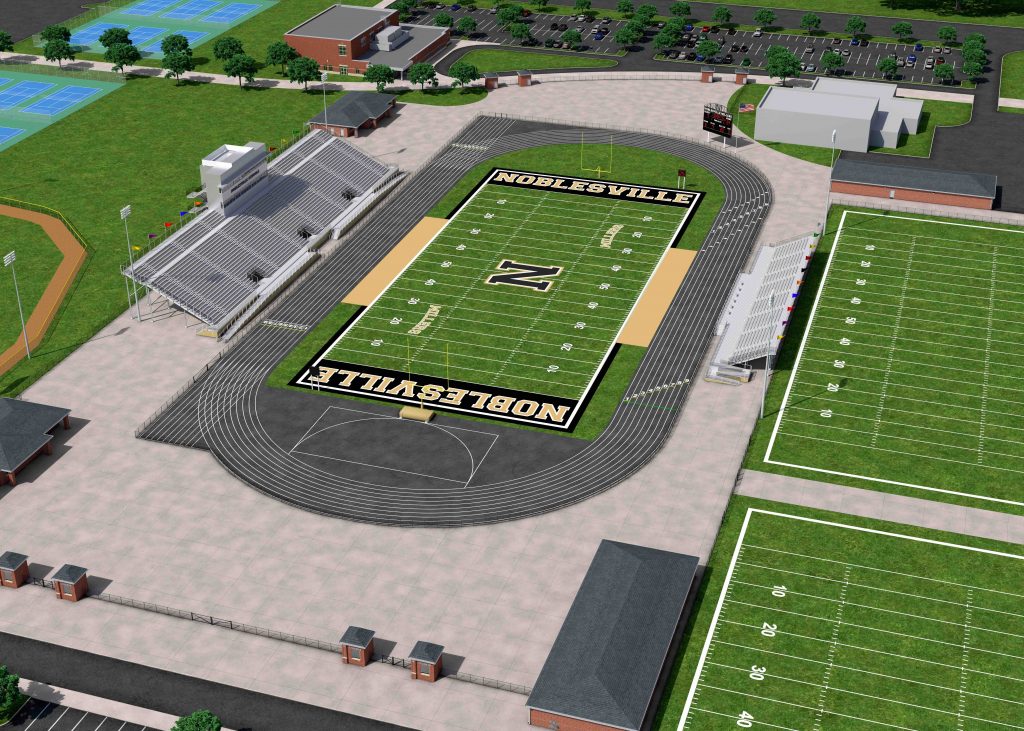 Noblesville Schools on Thursday announced plans to build a $14 million stadium for football, band and track next to Noblesville High School.
The district said the facility will be built behind Noblesville High School on Field Drive, replacing a former transportation building. The track portion of the field could be open as early next year, officials said, with the rest completed by 2022.
The stadium is expected to seat about 6,300, or about 50 percent more than the 4,200-seat Beaver Materials Field at the Dale V. Swanson Sports Complex, which was built in 1969.
The existing stadium will remain a district facility for lacrosse, rugby, band competitions and other uses, the district said.
The new stadium will feature "expanded concessions and restrooms, and on-site parking," the district said. "It will also be designed to maximize traffic flow and provide a safer environment for appropriately monitoring and managing crowds. Enhanced lighting, locker rooms for home and away teams, up-to-date broadcast technology capabilities, practice fields, athletic training space and additional storage are also included in the plans."
The district said it has been studying the need for a new stadium for years. The $14 million in construction costs will be financed through a bond "without the use of referendum dollars or an increase in the tax rate," it said.
Promotional opportunities, sponsorship opportunities and naming-rights deals will be pursued to lower costs, the district said.
Please enable JavaScript to view this content.