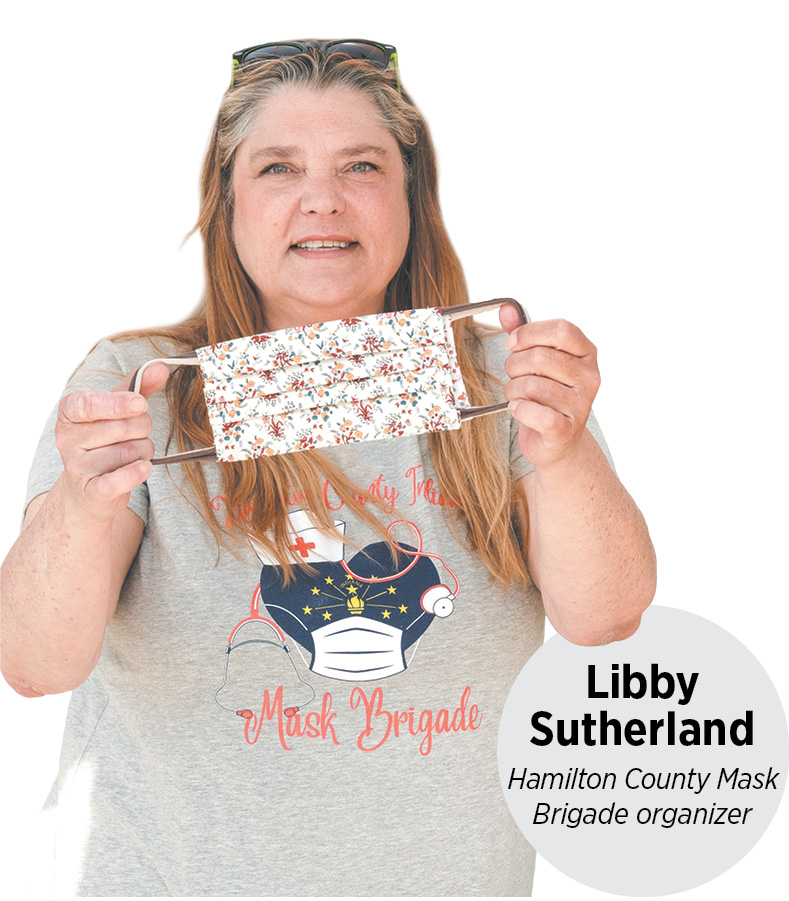 Even though Libby Sutherland doesn't sew, she's managed to stitch together a ragtag network of more than a thousand volunteers to form the Hamilton County Mask Brigade.
The 56-year-old teaching assistant at Noblesville's North Elementary School started growing a small army of stitchers and drivers on March 23 to provide front-line workers battling COVID-19 with a constant supply of homemade personal protection equipment. Since then, the brigade has delivered more than 15,000 fabric masks, surgical caps, barrier gowns, face shields and other equipment to workers across the state and country.
How did you grow your network of donors and volunteers?
It started with just me, then I quickly designated my friend Mindy Riley as an admin and told her what we were doing. I didn't ask. I just told her, "I've formed this group because I had to do something, and you're an admin."
People really want to feel like they're doing something to combat this, to make things safer for not just their family, but for their community. The flip side of any tragedy seems to be people's desire to reach out and help.
Within the first few days, we got up to 400 (members), and I was really excited because 400 people can get a lot done. Then they told friends, and they told friends, and they told friends. Next thing you know, we're at 1,300 members, and we're hoping to keep growing because the need is expanding.
How has your approach allowed you to direct time and materials beyond Hamilton County?
We have our own "top officials" and our own little government. We built the entire system so people could remain socially distant and still participate. I wanted it to be an assembly line, albeit a distant one, because people that can't sew are still greatly needed. We need them to cut material, or if they can't sew on a sewing machine, maybe they can sew on a button.
We always wanted it as open as humanly possible so anyone that can benefit can run with it. That way, they're not having to start from scratch like we did.
[Other cities] had people that were looking for a way to help, and with Hamilton County being so close to Indianapolis, they just kind of joined in with us. It's just easier for us to get back and forth because we've built this Pony Express.
What sort of requests has the mask brigade gotten?
We were getting requests from nurses working in COVID units that were handed a brown paper bag with one N95 mask, like, this was their one for the day. They didn't know how long that mask was going to stay with them, so we started sewing covers, something that they could wash and launder.
What work have you done for front-line workers outside the state?
We had a Navajo reservation in Arizona reach out through Facebook. [The principal] running the school there grew up in Indianapolis … and we were able to send masks out there. We have nurses with former co-workers and friends in Indianapolis who have volunteered to work in New York, so when they requested surgical caps to help cover themselves, we were able to provide those.
Is there a place for the brigade once things return to normal?
There are some groups that really don't have a lot of support, like small clinics and groups like that. We're looking at making this a full-time charity. If we are continuing to work on this, we will be better prepared for the next time.•
Please enable JavaScript to view this content.