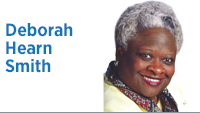 After reading the article in IBJ a few weeks ago about the low number of women in the CEO not-for-profit sector, I felt compelled to add my voice to the dialogue. I have been a part of the not-for-profit community for many years. The purpose of the sector in our economy is to fill in the gaps. Realizing that in capitalism there will be a need for a safety net, the not-for-profit sector is challenged with that task.
In our society—because of inequities in opportunity, education and discrimination, to name a few factors—this need for service has been disproportionally required by members of marginalized communities.
Looking at this backdrop, it is troubling that the leadership in the sector does not reflect the population it serves or society as a whole. While I certainly see the lack of women at the helm of the large not-for-profits, I cannot turn a blind eye to the lack of diversity in the CEO positions. Consider that, of the organizations in central Indiana with budgets exceeding $60 million in revenue, only one has a leader of color.
CEOs of color in our community are rare in organizations that serve all communities. You will find CEOs of color leading low-budget agencies that serve their community. There are some excellent leaders at this level, but they are not considered for organizations serving a broader base. Some shining examples are Miriam Acevedo Davis at La Plaza and Tony Mason at the Urban League—and there are several others.
Locally, the benefits of diversity and inclusion are low-level concerns. Funders would be wise to use the model of the Women's Fund of Central Indiana and have a requirement that the leadership of an agency reflect the values of Women's Fund as part of the funding application. The group asks directly what the female composition of the leadership is. Asking the question heightens awareness.
The pay inequity present in the general workforce is alive and well in this sector. Women and people of color make less, even when leading organizations with comparable budgets. Although this information is available to the general public, it does not seem to rise to a level of concern. The positions with salaries exceeding $150,000 or more are held primarily by men. This is a sector where women and people of color dominated the workforce, and the salaries for entry-level positions can be below that of teachers. As a part of funding decisions, pay equity should be a criteria. Charitable dollars should not be used to sustain a system of inequality.
The composition of the leadership has to change. More college-educated young people of color than ever before are ready to make a meaningful contribution to society. But they need to see a future that is diverse and inclusive. Around the table, the white male voice has been over-represented while others' voices are minimized or muted. This leads to misunderstanding and mistrust that can have devastating effects. The result is that those the sector is designed to serve are left wanting. Often, the CEO of color is not invited and/or included at the table where real information is shared and decisions made.
How do we move forward? First and foremost, we must decide it's important. What kind of community do we wish to be? I hope that we are striving to be diverse and inclusive, understanding we must first be aware of the problem.•
__________
Smith is former CEO of the Girl Scouts of Central Indiana. Send comments to ibjedit@ibj.com.
Please enable JavaScript to view this content.