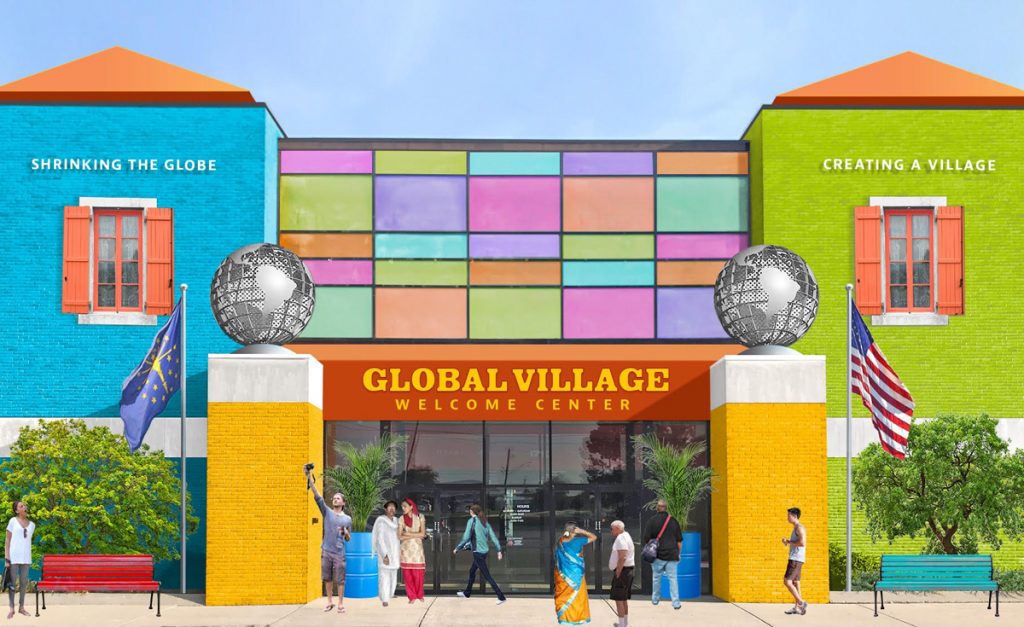 The not-for-profit group that promotes the northwest-side district of ethnic restaurants known as the International Marketplace has purchased the former location of Value City Furniture at 4233 Lafayette Road to create a $12 million welcome center and museum.
The International Marketplace Coalition closed on the acquisition of the 56,000-square-foot space on Thursday for roughly $2.2 million, Executive Director Mary Clark told IBJ on Friday.
To be named Global Village, the project is expected to include galleries of artifacts from six continents, a demonstration kitchen for chefs who work in the district, an audio/visual studio for creative services, and event space and conference rooms. It also will house offices for the Coalition.
"The Global Village will serve as the backbone of our community and further support on-going growth in our area," Clark said. "This is something that the international community has been waiting for."
The Coalition has kicked off a capital campaign to fund the $12 million project, the cost of which includes the purchase price of the building. It already has received a $1.5 million donation that's earmarked for building out the space, Clark said.
The donation will allow work on the space to begin in coming weeks, Clark said. The projected completion has not yet been determined and will depend on the group's progress with the capital campaign, which has no predetermined endpoint.
The 2.5-square-mile district in what formerly was called the Lafayette Square area is home to more than 100 ethnic restaurants, spanning cuisines from Mexican and Indian to Ethiopian and Peruvian. The Coalition estimates that more than 80 languages are spoken in the district.
The publication Food & Wine profiled the International Marketplace in a story last fall in a story headlined, "The Most Interesting Neighborhood in Indianapolis."
Public Radio International did a piece on the International Marketplace in 2016, and the National Culinary Review wrote a story in 2015. The New York Times wrote about the area and its restaurants in 2011.
The Value City location was vacated by the retailer several years ago. The Coalition purchased it from Namdar Realty Group, a commercial real estate investment and management firm based in Great Neck. New York.
Please enable JavaScript to view this content.