Amy Coney Barrett, a University of Notre Dame Law School professor and a judge on the 7th Circuit Court of Appeals, is widely seen as a front runner for the seat on the U.S. Supreme Court opened on Friday after the death of Justice Ruth Bader Ginsburg.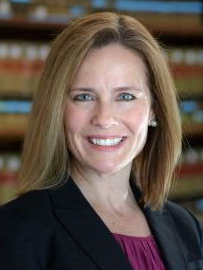 Barrett, 48, was considered among the main contenders for the seat eventually filled in 2018 by Justice Brett Kavanaugh and had been interviewed by President Trump for the job. She's viewed as having many of the qualities Trump is seeking in a justice, particularly her age.
Barrett was heralded on Friday night and Saturday morning as a leading contender by publications and news services including Bloomberg News, The Hill, CNBC, Slate, NBC News, Forbes and USA Today.
A graduate of Notre Dame's law school and former clerk for the late Justice Antonin Scalia, Barrett was confirmed to the Chicago-based appellate court in late 2017 after a bruising battle. Democrats hammering her legal views, before she was confirmed by a 55-43 vote.
Aaron Blake, senior political reporter for The Washington Post, wrote Saturday that Barrett was the clear early favorite for the newly open seat among the Washington chattering class.
"I wrote in 2018 that Barrett made the most sense for the nomination that went to Kavanaugh, and many of the reasons hold up today," Blake wrote. "One was her youth (she's now 48 years old, meaning she could serve on the court for decades). Another was her reputation and telegenic style, along with a family of seven children that could flank her at confirmation hearings.
"But maybe the X-Factor with her is this: The feelings she might engender on the left. When Barrett was first confirmed to the federal court in 2017, her past comments about the role of religion in her life and the law drew derision from some top Democrats. Barrett had told Notre Dame graduates in 2006 that 'your legal career is but a means to an end, and … that end is building the kingdom of God.'
"Trump loves stoking culture wars, and what better way to create one for his all-important evangelical Christian base than tempt Democrats to make an issue of Barrett's religiosity?"
Reporters for Bloomberg News wrote Saturday that Barrett was seen leading the short list for the court.
"After Kavanaugh's bitter 2018 confirmation battle, White House aides, including former White House counsel Don McGahn, told disappointed Barrett allies that she was being saved for the next round of nomination prospects, two people familiar with the matter said," according to Bloomberg.
Not surprisingly, Barrett's name resurfaced earlier this month among the candidates Trump said he would consider for any open Supreme Court seats.
Trump said Saturday that he would move "without delay" to fill Ginsburg's seat on the Supreme Court, ensuring a ferocious political battle that could transform the nation's highest court and alter the presidential election.
"We were put in this position of power and importance to make decisions for the people who so proudly elected us, the most important of which has long been considered to be the selection of United States Supreme Court Justices," Trump said on Twitter. "We have this obligation, without delay!"
A successful nomination could give conservatives a 6-3 majority. Recent liberal victories at the court on issues such as gay rights, abortion and affirmative action have come because the four liberals were able to attract one conservative justice to join them.
Democrats in the Senate will meet Saturday to review their options. They are furious that Senate Majority Leader Mitch McConnell has said the Senate would vote on a Trump nominee, despite the presidential election just weeks away.
McConnell in 2016 refused to act on President Barack Obama's Supreme Court nominee, Merrick Garland, after conservative Justice Antonin Scalia died in February of that year. McConnell said then that voters should have a voice in choosing the next justice.
He says the difference now is that Republicans control both the White House and Senate, unlike four years ago, and that voters intended any openings be filled. Still, some Republican senators have expressed concern about whether to proceed because of the 2016 precedent.
Please enable JavaScript to view this content.