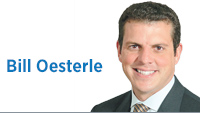 "Indiana labor force projections: Slowdown on the horizon" is the title of Matt Kinghorn's excellent article in the September-October 2018 issue of INContext, an equally excellent publication of the Indiana Business Research Center at Indiana University's Kelley School of Business.
Professor Kinghorn is a demographer specializing in Indiana's population and employment. In this important article, he argues that Indiana's labor force will begin shrinking next year and will continue to shrink for 10 years.
This will be the first time in Indiana's recorded history that the labor force will contract. This unprecedented environment will force meaningful changes in the ways Indiana companies attract and manage talent.
For the past 100 years, Indiana's labor force has grown nicely. It doubled in size from 1950 to 2000. We had three major trends working in our favor: Birth rates climbed, women entered the workforce in increasing numbers, and more people moved into the state than moved out. Each of these trends varied over the years, but their overall trajectory was upward.
During the last 10 years, all that has changed. Birth rates have been declining since 2008 and will not keep pace with the growing mortality rates of the baby boomers. Women now participate in the workforce at nearly the same rate as men. Net in-migration has slowed to a crawl. In fact, during the last decade, Indiana experienced a period of significant out-migration.
These are strong headwinds, and even increases in automation are unlikely to be enough to counter the shortfall. Automation tends to work its way up the skills ladder and the contraction will eventually affect the entire skills spectrum. Further, automation historically leads to employment growth, which in this case, would make the situation more dire.
While I sense that workforce issues are somewhat understood by Indiana companies, I am not sure they yet understand what hiring and retention will be like in the contraction. Who can blame them? We have never seen one.
Companies are going to have to completely reorient their talent strategies. Historically, hiring has been overwhelmingly skills-based. Post a job description, interview multiple candidates, and hire the one whose skills best match the task. If anything, this skills orientation has become more embedded. Companies continually work to standardize job-posting procedures, and job descriptions are becoming ever more detailed.
A labor contraction is likely to flip this process on its head. In a world where every open job has, on average, fewer than one applicant, employers will be forced to abandon standardized skill requirements. They are going to have to move from a skills-first model to a talent-first model.
In a talent-first world, general talent attributes like adaptability, trainability and, perhaps most important, willingness are the criteria used to evaluate and recruit talent. Recruiting in the future will broaden geographic reach as well. The low-hanging fruit of local/regional recruiting will be good only for swapping employees back and forth. It will necessarily be replaced by targeted national and international recruiting.
If all of this sounds hard, it will be. Companies that begin the process now will have major advantages over those that do not.•
__________
Oesterle is the CEO at Tmap LLC. He managed Republican Mitch Daniels' first run for governor. Send comments to [email protected]

Click here for more Forefront columns.
Please enable JavaScript to view this content.