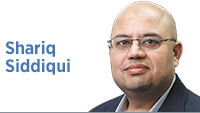 I keep asking myself: Would my family be better off as Muslim Americans if we re-elected Donald Trump in 2020?
Let me explain with some context.
I love philanthropy because it is focused on identifying, defining and seeking to solve a problem. We start the journey as an individual, then find other people to collectively try to solve the problem. We may seek resources from entities like governments, corporations or foundations to solve the problem. But the key is realizing we can't solve the problem by ourselves.
Here is my problem: I need more allies to protect my children from hate because of their funny sounding name and their faith.
People in this country have hated Islam and Muslims for a long, long time. But for a long-time, people like me have been largely alone.
I remember a time when it was Democrats and the left that fueled Islamophobia, along with the Republicans and the right. Hollywood has long fueled hatred of immigrants and Muslims. The Clinton administration was great economically, but it was a hateful time for Muslims. More recently, it was Marion County Democrats that used foreign tropes to attack Mayor Ballard when he sought to build a "cricket field."
No political party owns Islamophobia. Partisan politics embrace political opportunity regardless of the cost to our nation. I don't think we realize that Trump is simply a symptom of a deep-seated problem in our country, and to tackle it, we need many, many partners. Muslim Americans can't succeed by themselves. We are too few and lack the financial resources to fight this alone.
According to the Institute of Social Policy and Understanding American Muslim Poll, Muslims number fewer than 1% of our nation's population. Because they skew very young, they have fewer resources than the average American.
For the longest time, people on the right and left (including friends of mine) would have little issue explaining to me how "Islam has a problem." That I was an "exception." In effect, I was being told that to be a "good American," I need to be a "bad Muslim."
These kinds of discussions don't happen as much since President Trump was elected in 2016. Muslim Americans have mainstream allies. Politicians, advocacy organizations and other groups opposed to President Trump that have taken on Islamophobia.
So I come back to my dilemma: Are Muslim Americans better off with President Trump re-elected in 2020? I know it is bad for our country. But with Donald Trump in the White House, I don't have to prove the racism that I and my children face because of our faith. I am less alone.
In the Democratic race for president, there are candidates that have more nuanced forms of Islamophobia that are not clearly identified. While all agree that President Trump's "Muslim ban" is an overt form of racism, they have views on foreign policy, terrorism and immigration that look upon people like my family with negative judgment.
Only two Democratic candidates for president (Sen. Bernie Sanders and Secretary Julian Castro) participated in a Muslim presidential forum at one of the largest gatherings of Muslim Americans over Labor Day weekend.
To protect my family, I need all the allies I can get. Even now, foundations and philanthropy have done little to bolster the anemic Muslim not-for-profit sector to help combat the billion-dollar Islamophobia not-for-profit industry. President Trump keeps the fight against racism front and center.
I fear that this energy and focus will dissipate as soon as the next political messiah is elected president. Partisan politics will kick in and racism will be glossed over.•
__________
Siddiqui is an attorney, has a doctorate from the Lilly Family School of Philanthropy at IU and leads the Association for Research on Nonprofit Organizations and Voluntary Action. Send comments to ibjedit@ibj.com.
Click here for more Forefront columns.
Please enable JavaScript to view this content.