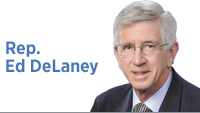 It has taken a while, but at last, the conflicts revolving around public education in Indiana have led to open warfare.
Charter schools are arguing before the Indiana Supreme Court that they are entitled to millions of additional dollars. A traditional school district has brought suit to overturn the requirement that empty district buildings be given away for $1 to any charter school making a claim.
And advocates for what they call "school choice"are using the failed ILEARN test to attack public school districts by name; it no longer suits them to condemn public schools generally. Presumably, they will try to "benefit" the residents of those districts by opening yet more charter schools. Of course, they hope to get a building for a buck.
Meanwhile, individual superintendents and organized groups of school districts have at long last begun to enter the fray. My inbox is filling up with their correspondence and press releases.
We are all familiar with the three latest crises in public education: low teacher pay, the collapse of highly-funded virtual schools and the latest debacle surrounding the ILEARN test. We are less familiar with the desire of the school choice movement to use the claimed failings of traditional schools to justify expansion into new areas, going beyond Gary, Fort Wayne and IPS.
About a year ago, a think tank called EdChoice set out to spread the "choice" movement into communities it identifies as education "deserts" because they don't have charter or vouchers schools. Happily, that effort seems to have gone nowhere. But the response of the charter school advocates is not to give up. Rather it is to double down while ignoring the repeated failures of charter schools. ( Oh yes, some do succeed and may God bless them.) Thus, the new and nasty tone from the "reformers."
The war over charters has been below the surface and localized until now. This has been because only one side was armed. The charter movement has its support from foundations and media experts. But it appears to have gone too far. Superintendents who stayed quiet while a few urban districts were being pilloried have caught on. They can't close a building without fear of creating a competitor and giving it a building. Small school districts are joining in to resist the triad of charters, virtual schools and vouchers. They don't have philanthropist support, but they have found their megaphone. They might aim it at Education Secretary DeVos and ask her to pay some attention to the 93% of our students in traditional public schools on her next Indiana visit.
In a normal political environment, the Legislature would step in, review the confusion caused by 10 years of change and slow things down. Instead it joins the governor in reverting to the Washington, D.C., model of governances: not legislating and leaving policy to the courts. The supermajority in Indiana has rebuffed every effort by Democrats to look into the real issues. Our summer study committee on education has focused on small-bore administrative issues.
So how do we end this war? It is up to teachers and administrators to push for change. It is up to the voters to prevent the use of gerrymandering to erode democratic voices. Some people are going to have to protest in public, others in the privacy of the voting booth. Our district superintendents are going to have to pressure their Republican legislators to put an end to the educational experimentation that began in the wake of the 2010 election. Maybe these legislators can find the courage to replace the chairman of the House Education Committee.•
__________
DeLaney, an Indianapolis attorney, is a Democrat representing the 86th District in the Indiana House of Representatives. Send comments to ibjedit@ibj.com.

Click here for more Forefront columns.
Please enable JavaScript to view this content.