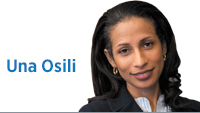 2020 promises to be a pivotal year for climate change. Mounting scientific evidence on rising global temperatures, sea levels and carbon emissions have set a dramatic transformation in motion, with significant implications for individuals, corporations and the government sector.
The CEO of the world's largest investment manager, BlackRock Laurence Fink, just announced they would be placing climate change and sustainability at the center of their investment strategy. BlackRock manages approximately $7 trillion for investors.
Amidst the intense and polarizing debates, young people have galvanized into a strong movement for change led by climate change activists and Time Person of the Year Greta Thunberg. She recently, for example, shared a photo of a kangaroo fleeing wildfires in New South Wales, Australia, and captioned the image: "Australia is on fire."
The Australian wildfires and the relief efforts are yet another urgent reminder of the need for individual and collective action to address climate change.
For several decades, researchers and scientists have sounded alarms on the escalating costs of inaction on climate change. Many scientists make the connection between the climate crisis and extreme weather events and natural disasters like the Australian fires. Estimates from the Intergovernmental Panel on Climate Change remind us that any temperature rise above 1.5 degrees will lead to significant and irreversible damage.
Younger Americans have shown a heightened interest in learning about best practices and advocating for policies that will reduce carbon emissions.
Millennials are more likely to use their resources to create social impact as compared with older generations. Moreover, this age group is raising new questions about how their educational institutions, governments, and not-for-profits can support environmentally friendly practices.
Many student activists and local advocates have also called for small-scale, practical actions that can have an immediate impact on reducing carbon emissions.
The start of a new decade also allows us to redefine how our communities here in central Indiana can make climate action and sustainability part of everyday life.
The encouraging news is that there is increased advocacy from not-for-profits, grassroots organizations and from local governments to address climate change.
Cities and towns in Indiana are responding by creating climate action plans that focus on setting achievable targets to reduce carbon emissions, expand the use of renewable energy, and build resilience to tackle climate change.
There is an opportunity to accelerate research on the science of climate change and call for policies that enhance action to mitigate catastrophic impacts. The effects of climate change, including extreme weather conditions and natural disasters, have been shown to have a disproportionate effect on communities of color and low-income communities.
Indianapolis leaders are launching a commission that will work with researchers and experts to provide recommendations for the city.
We are only just starting to understand the implications of rising global temperatures, extreme weather events and the economic, health and social problems that will emerge, as well as the profound changes to the land and the ocean.
Greta and many young activists remind us that lack of political action "has to change now." Their message is that here in Indiana and abroad, we can move beyond inertia into momentum, setting goals, and achieving sustainable impact—if everyone gets on board.•
__________
Osili is professor of economics and associate dean for research and international programs at Indiana University Lilly Family School of Philanthropy. Send comments to ibjedit@ibj.com.

Click here for more Forefront columns.
Please enable JavaScript to view this content.