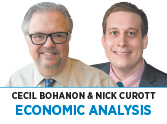 The budget deal signed into law by President Trump spotlights the federal government's fiscal irresponsibility. The bill raises caps on discretionary spending by $320 billion and is projected to add $1.7 trillion to the national debt, which is already over $22.5 trillion and rising fast. Meanwhile, lawmakers are not drafting any viable proposal for addressing the looming fiscal crisis.
In 2007, government debt held by the public—the most economically significant measure of public indebtedness—was only 35% of GDP. This year, it will reach 78%. Historically, national indebtedness has increased during wars and recessions and then decreased afterward. But not anymore. The debt is now the largest it has ever been in the history of our country during peacetime and is rising while the economy is expanding.
Making matters worse, spending on Social Security and Medicare is going to explode due to an aging population and longer life expectancy. The Congressional Budget Office projects publicly held debt will hit 144% of GDP by 2049, surpassing the all-time high of 120% after WW II.
As the debt grows, more of the federal budget will be wasted on interest payments. Eventually, the debt will grow beyond the means to repay it through taxes. Government will then have to resort to massive inflation or else default on repayment, which will drive away investment and likely cause a major recession, if not a depression.
The time to act is now, before the debt spirals out of control. The longer the federal government waits to cut spending, the larger the spending reductions will have to be to stem the crisis. Furthermore, a recession or war could make what seems like a long-run problem an immediate crisis.
Politicians know this but do not have an incentive to do anything about it. Research shows voters are shortsighted and less likely to vote for politicians who cut entitlements or raise taxes, especially during an election year. Politicians running on a responsible platform of balancing the budget by raising taxes and reducing Social Security and Medicare benefits stand little chance of election. Most politicians are content to kick the can down the road. The crisis will come after they are no longer in office, and it will be someone else's problem.
That's why we need a balanced budget amendment or some other constitutional limitation on spending and debt, and we need it now.•
__________
Bohanon and Curott are professors of economics at Ball State University. Send comments to ibjedit@ibj.com.
Please enable JavaScript to view this content.